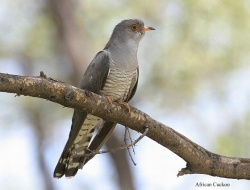 Genus: Cuculus
Description
Cuckoos from Eurasia and Africa.
Most species are slate-grey above and have pale underparts with dark bars. Many species occur also in a rufous morph.
Several species are very similar and difficult to separate in field. The vocalisations may be needed for a positive id.
All species are brood parasites. They feed on large insects, mainly on caterpillars.
Taxonomy
Cuculus is a genus in the Family Cuculidae.
The Hawk-Cuckoos of the genus Hierococcyx are sometimes placed in this genus. Pallid Cuckoo was formerly placed here.
References
Del Hoyo, J, A Elliot, and J Sargatal, eds. 1997. Handbook of the Birds of the World. Volume 4: Sandgrouse to Cuckoos. Barcelona: Lynx Edicions. ISBN 978-8487334221
Recommended Citation
Pages in category 'Cuculus'
The following 11 pages are in this category, out of 11 total.