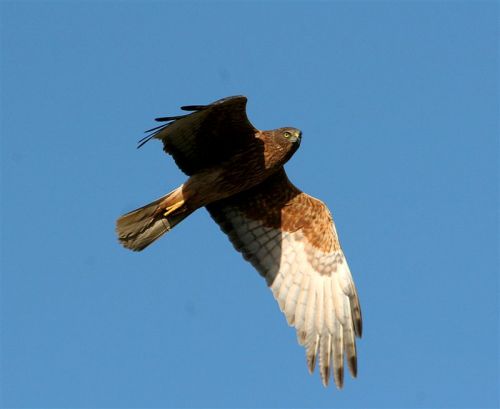 Alternative name: Australian Harrier
Circus approximans
Identification
48–61 cm (19-24 in)
Dark brown overall plumage, becoming lighter with age
White rump.
Females larger than males.
Distribution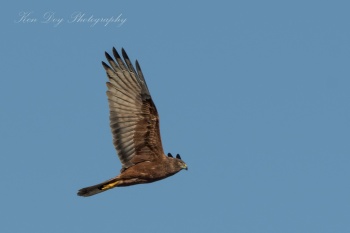 Australasia. Breeds in southern New Guinea, Australia, New Zealand and on many Pacific islands including the Society Islands, Tonga, the Fiji Islands from Kandavu to the Lau Archipelago, Vanuatu (reported on Aneiteum, Tanna, Erromanga, Efate and Santo), the Loyalty Islands and New Caledonia, Lifu and Uvea.
Widespread in Australia, particularly in the north, east and south-east, but also in the south-western corner and can occur throughout most of the country except the more arid regions of the interior. China and in Hokkaido and Honshu in Japan. Also occurs in Tasmania where a summer visitor.
In New Zealand breeds on North and South Islands and a straggler south to the Auckland and Campbell Islands.
Taxonomy
This is a monotypic species
Pacific Marsh Harrier (Swamp Harrier) is treated as a race of Western Marsh Harrier C. aeroginosus by some authors
Habitat
Open country, crops, paddyfields and swamps.
Behaviour
Diet
Their diet consists mostly of small mammals, birds and eggs, reptiles, amphibians, fish, large insects and carrion.
Breeding
The nest on the ground, often in swamps, constructing a platform nest from sticks, reeds and dried grass. In amongst reeds or other dense vegetation. The clutch contains 3-4 eggs which are incubated for about 33 days, with chicks fledging about 45 days later.
References
Clements, J. F., T. S. Schulenberg, M. J. Iliff, S. M. Billerman, T. A. Fredericks, B. L. Sullivan, and C. L. Wood. 2019. The eBird/Clements Checklist of Birds of the World: v2019. Downloaded from http://www.birds.cornell.edu/clementschecklist/download/
Debus, S. and G. M. Kirwan (2020). Swamp Harrier (Circus approximans), version 1.0. In Birds of the World (J. del Hoyo, A. Elliott, J. Sargatal, D. A. Christie, and E. de Juana, Editors). Cornell Lab of Ornithology, Ithaca, NY, USA. https://doi.org/10.2173/bow.swahar1.01
Recommended Citation
External Links