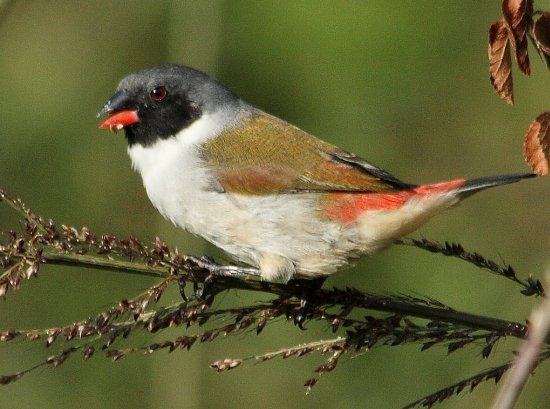 Coccopygia melanotis
Estrilda melanotis

Identification
Length 9-10 cm, mass 8g
Adult male: Black face and upper throat contrasts with grey crown and nape and white lower throat. Breast pale grey and belly pale buff. Bill black above and red below and eyes red.
Adult female: Similar to the male, but has a pale grey face and white chin and throat.
Juvenile: Similar to the female, but duller, with a black bill and dark brown eyes.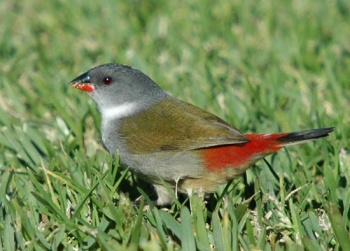 Distribution
Southern and eastern South Africa, Lesotho, eSwatini, while rare or localized in Zimbabwe and Mozambique.
Taxonomy
Some authorities consider C. melanotis to be conspecific with Yellow-bellied Waxbill (C. quartinia) and/or Angola Waxbill C. bocagei.
This complex has been placed in the genus Estrilda.
Subspecies
This is a monotypic species[1].
Habitat
Forest and plantation edges, bushy vegetation, parks, gardens and farmyards.
Behaviour
Does not move long distances, other than local altitudinal migration in some populations. Although fairly confiding, they are easily overlooked as they seldom venture far from dense cover.
Breeding
Forages in pairs or small groups on plants and on the ground for seeds and insects.
Breeding
Monogamous and territorial. The nest is enclosed and oval with the entrance on the side and near the top. It is built by both sexes using grass. Three to nine eggs are laid in summer (October to April). Parasitised by Pin-tailed Whydah.
Vocalisation
The common name is derived from the "swee-swee" flight- and contact-call.
References
Clements, J. F., T. S. Schulenberg, M. J. Iliff, S. M. Billerman, T. A. Fredericks, B. L. Sullivan, and C. L. Wood. 2019. The eBird/Clements Checklist of Birds of the World: v2019. Downloaded from http://www.birds.cornell.edu/clementschecklist/download/
Fry H, Keith S, Woodcook M & Willis I. 2004. Birds of Africa Vol VII: Sparrows to Buntings. Princeton University Press. ISBN 0713665319
Hockey, PAR, WRJ Dean, and PG Ryan, eds. 2005. Roberts' Birds of Southern Africa. 7th ed. Cape Town: John Voelcker Bird Book Fund. ISBN 978-0620340533
Avibase
Recommended Citation
External Links