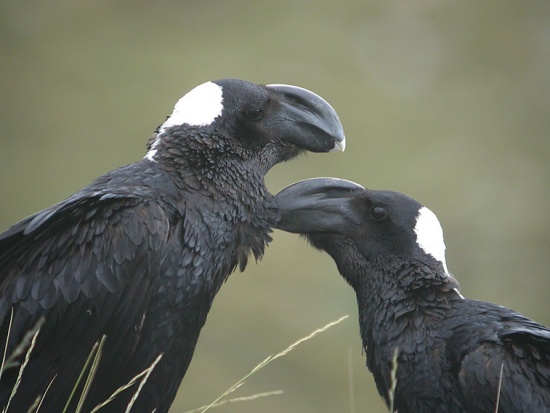 Corvus crassirostris
Identification
60 - 64 cm. A very large, unmistakable raven:
Massive bill, laterally compressed and deeply curved. Black with a white tip and deep nasal grooves with only light nasal bristle covers.
Very short feathers on the head
Plumage black, upperparts with blue or purple-blue gloss
Large white patch on upper nape
Throat and side of neck brownish-black
Sexes similar. Juveniles with all black bill, duller and more sooty brown than adult.
Distribution
Endemic to the highlands of Eritrea and Ethiopia.
Widespread and common in its range.
Taxonomy
This species is monotypic.[1]
Forms a species pair with White-necked Raven and with the latter sometimes placed in genus Corvultur.
Habitat
Mountains and high plateau. Found in a wide range of habitats from montane grassland to open forest, city parks and gardens.
Behaviour
Diet - Includes grubs, beetle larvae from animal dung, carrion, scraps of meat, and other human foods.
Breeding - Nests in trees and on cliffs, building a stick nest. 3-5 eggs are laid.
References
Clements, JF. 2008. The Clements Checklist of Birds of the World. 6th ed., with updates to December 2008. Ithaca: Cornell Univ. Press. ISBN 978-0801445019.
Del Hoyo, J, A Elliott, and D Christie, eds. 2009. Handbook of the Birds of the World. Volume 14: Bush-shrikes to Old World Sparrows. Barcelona: Lynx Edicions. ISBN 978-8496553507
Recommended Citation
External Links