This article is incomplete.
This article is missing one or more sections. You can help the BirdForum Opus by expanding it.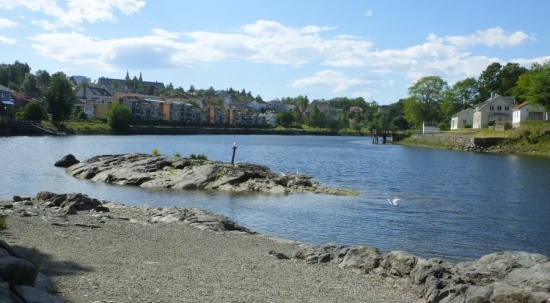 Overview
Trondheim is a university city in central Norway, within the Trondheim Fjord. As with virtually all cities in Norway, Trondheim is surrounded by hills, forests, waterways and farmland. There are also many parks and gardens and thus a number of places of interest for visiting birders. Trondheim also has an active ornithological society.
Birds
Notable Species
Spotted Nutcrackers (Siberian race) can readily be found in pine cone season (late July through September most years) in a number of parks and cemeteries. Trondheim also has possibly the world's northernmost breeding population of Rooks, mostly on the east side of the city, boldly strutting about in the parks.
Winter visitors include large flocks of Bohemian Waxwings (look for them in berry bushes and Rowan trees), Crossbills (Parrot, Red, and occasionally irruptions of Double-barred - look for them in the Botanical Gardens at Ringve), and some Winters flocks of Long-Tailed Tits.
Rarities
Includes Pink-footed Geese (for flocks in the tens of thousands, drive further east along the fjord to Levanger in the Spring and Fall migrations), also occasionally other geese such as Tundra Bean, various ducks including Mandarin, Water Rail, Grey Wagtail (one pair breeds regularly near the upper falls dam on the river) ...
Check-list
Birds you can see here include:
To do
Other Wildlife
Beavers along the river and in the forest on the west side of the city. Wolverine, also in the forest west of town. Moose in the forests both to the east and west. Roe deer, Badgers ...
Site Information
History and Use
To do
Areas of Interest
Leangenbukta
Nidelven (River Nid)
Tufted Duck. Whooper Swan in the winter
White-throated Dipper, Mallard, Goosander, Common Goldeneye
Eurasian Wigeon, Great Cormorant
Ringve Park
Access and Facilities
The airport is at Hell, about 30 minutes by car on the E6.
Trondheim itself is served by a rail station with regular trains from Oslo, in addition to the coastal express boat from Bergen to Kirkenes in Finnmark.
Within Trondheim there are good and frequent bus and tram services throughout the city. Cycle hire is readily available.
Contact Details
To do
External Links
Maps