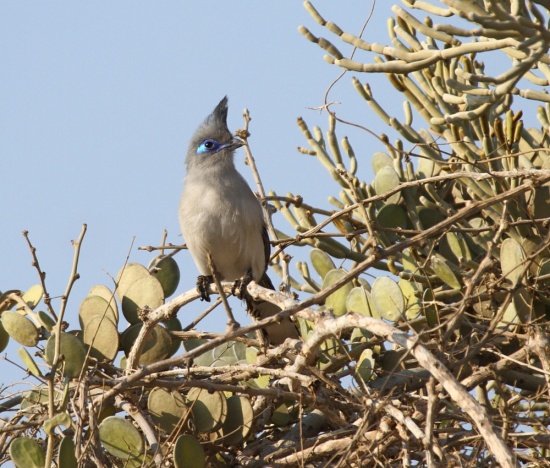 Alternative names: Southern Crested Coua, Southern Crested Madagascar Coucal
Coua verreauxi
Identification
Mid-grey
White lower breast and belly
Darker flight-feathers
Tail

Long
Dark grey
White-tipped outer feathers

Long, dark-tipped crest
Pale blue bare skin around eye
Black bill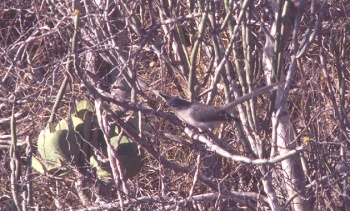 Distribution
Locally in subdeserts of south-western Madagascar.
Taxonomy
This is a monotypic species[1].
Habitat
Dry euphorbia coastal shrubland.
Behaviour
An arboreal species.
Diet
Feeds on insects, small vertebrates and fruit and seeds of cassia fruit.
Froages mainly in trees and bushes, especially where sympatrich with Crested Coua.
Breeding
Poorly known. Breeding season probably October to April. The nest is a platform or a shallow bowl made of sticks. It's placed 1.5 to 4m above the ground in a spiny tree.
Movements
This is a resident species.
References
Clements, J. F., T. S. Schulenberg, M. J. Iliff, B.L. Sullivan, C. L. Wood, and D. Roberson. 2013. The eBird/Clements checklist of birds of the world: Version 6.8., with updates to August 2013. Downloaded from http://www.birds.cornell.edu/clementschecklist/download/
Del Hoyo, J, A Elliot, and J Sargatal, eds. 1997. Handbook of the Birds of the World. Volume 4: Sandgrouse to Cuckoos. Barcelona: Lynx Edicions. ISBN 978-8487334221
BirdLife International
Recommended Citation
External Links