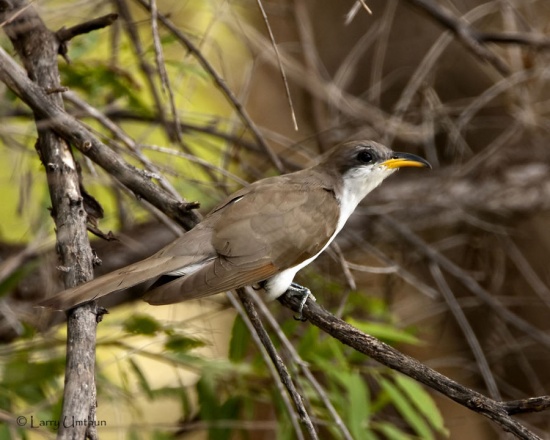 Coccyzus americanus
Identification
17–20 cm (6½-7¾ in) An uncommon, secretive bird. Named for the yellow on the lower mandible of its somewhat decurved bill. The underparts of this bird are contrasting white and the primaries are rufous.
Similar species
Yellow-billed Cuckoo has inner webs of primaries brown (not white like Pearly-breasted Cuckoo) and shows some rufous on wings.
The Yellow-billed Cuckoo's tail is barred in large distinctive white spots similar to the Mangrove Cuckoo.
Distribution
Breeding migrant found throughout the United States, but losing habitat in the west due to destruction of riparian woodlands. Not to be expected in Canada. Breeds locally in Mexico, and possibly in the northern half of Central America.
Recent results suggest that at least part of the US population after having bred in early parts of summer migrates to north-western Mexico where a second round of breeding takes place before the birds go on the final migration to their winter home[2].
Vacates North America including Mexico and winters in southern Central America and especially in South America.
Occasional autumn vagrant to western Europe
Taxonomy
This is a monotypic species[1].
Habitat
Found in woodlands with clearings, usually with water or wet regions.
Behaviour
Moves about stealthily in dense foliage, rarely perching in the open.
Diet
Gleans insects, notably hairy caterpillars, from leaves and branches. Extremely fond of tent caterpillars, important for keeping outbreaks of the insects under control.
Breeding
Young: Altricial but alert and active within minutes of hatching. Shiny black skin, no down. The young develop incredibly quickly - the entire period from egg laying to fledging lasts only 17 days. On day 6 or 7 after hatching, the feathers of the young burst out of their sheaths, allowing the nestling to become fully feathered in only 2 hours.
Vocalisation
Gives a wooden-sounding, guttural ku-ku-ku-kddowl-kddowl or a deep cloom similar to a dove.
In Culture
Once known as "Raincrow" due to its apparent tendency to call more frequently on stormy days.
References
Clements, J. F., T. S. Schulenberg, M. J. Iliff, D. Roberson, T. A. Fredericks, B. L. Sullivan, and C. L. Wood. 2017. The eBird/Clements checklist of birds of the world: v2017, with updates to August 2017. Downloaded from http://www.birds.cornell.edu/clementschecklist/download/
Paper describing migration to second breeding area
Recommended Citation
External Links