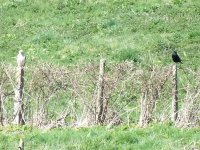 Any thoughts as to if this is a pale juvenile buzzard or possibly a (juvenile?) male hen harrier? My apologies for the terrible photography. The photos were taken at a distance with an old bridge camera that I am still getting used to! I haven't posted any more because they need to be zoomed in to get anything from them, and they are just variations on a theme, slightly different as the bird moved but nothing remarkably different, here is a link to the set in case you would like to try and gather some more info from them:
https://flic.kr/s/aHsmV8UhN5
The bird was sighted on a fence post near Wiveliscombe in Somerset, on the afternoon of Friday 2nd April. As you can see in some of the photos a corvid was on another fence post which is a handy comparison. The bird did fly when disturbed but I wasn't quick enough to catch a photo of it. My memory is telling me that the underside of the wings were very pale with dark endings to the feathers, they seemed quite different to the buzzards (including juveniles) that I see, but I fear my mind is playing tricks on me!