I'm writing this report as a lead-in to photos I'll be posting.
I'd made five birding road trips to Texas since 2013 during the winter, spring and summer seasons but this trip's target bird, the early spring migrant Cerulean Warbler, had eluded me. My birding would be split into two parts, the Rio Grande Valley (RGV), which would offer more resident birds than migrants, and the Texas Coast. My chosen locations there were the well-known migrant destinations at High Island, southeast of Houston and Sabine Woods, near the Louisiana border. On the way to the RGV, I stopped at the South Llano River State Park hoping to get a decent photo of a Black-capped Vireo, a fast-moving skittish bird that I'd only gotten quick glimpses of previously.
According to ebird reports, the Cerulean migration peaks in Texas between April 20-25 so I organized my trip around those dates. I drive a van where I usually sleep, staying in motels every few days to shower and relax in a real bed. I was almost two weeks into my second Pfizer Covid vaccine and was looking forward to experiencing a more normal lifestyle, although I still was not ready to eat at indoor restaurants.
The trip began well as I photographed a Black-capped Vireo singing atop a low tree. The RGV was hotter than I had expected with daytime temperatures up to 35°C (95°F) and evening temps uncomfortably warm in the van. I also learned that many of the state parks and bird sanctuaries pull in their feeders on March 31, so although the birding was good it wasn't the most productive trip I've had there. I cut my RGV birding short by a few days but before departing visited the Brownsville Landfill to search for a Tamaulipas Crow. The odds for success were not good as the species had not been reported in the United States in the last 2 1/2 years, but the birding gods smiled upon me and I found 4 of them. I usually don't report on ebird, but I made an exception to get the word out on this find.
I spent a day driving to the coast and was faced with a choice, do I begin at High Island or Sabine Woods? I chose the latter and was not disappointed. Sabine Woods is a thinner forest than those at High Island affording better viewing of birds. I arrived in time to witness my first "fall out".
For those who aren't familiar with this phenomenon, most of the the neotropical migrants seen on the Texas Coast have flown over the Gulf of Mexico from the Yucatan Peninsula. That flight can last from 11-18 hours depending on the winds. The birds take off from Mexico with favorable winds but if the birds fly into a storm or if the wind direction changes, those that survive land en masse on the first piece of land that they see. Both High Island and Sabine Woods are close to the gulf and offer survival to the extremely tired fliers. The migrants land and immediately begin eating, often ignoring predators, including those with two legs. The fatigued birds usually stay closer to the ground than is usual, where food is more available. This provides birders with closer-than-normal views of the various warblers, grosbeaks, buntings, cuckoos, tanagers and orioles. A number of thrush species are also present on the forest floor.
I was in a wonderland, surrounded by a colorful multitude of winged creatures. I saw my first Cerulean Warbler that day at a water feature. By the end of my trip, six days later, I'd seen five of the blue beauties. After Sabine Woods I visited the High Island area, a 45 minute drive, to bird in the thicker forests and check out the Roseate Spoonbills, egrets and cormorants at the Smith Oaks Sanctuary ponds.
This was definitely one of my top birding/photography trips in the American Birding Association area.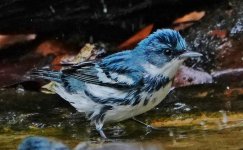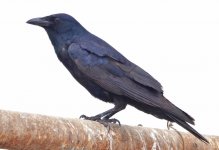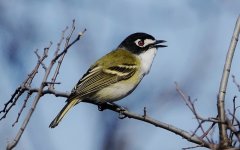 Last edited: