Alternative name: Grassland Pipit
Includes: Cameroon Pipit; Jackson's Pipit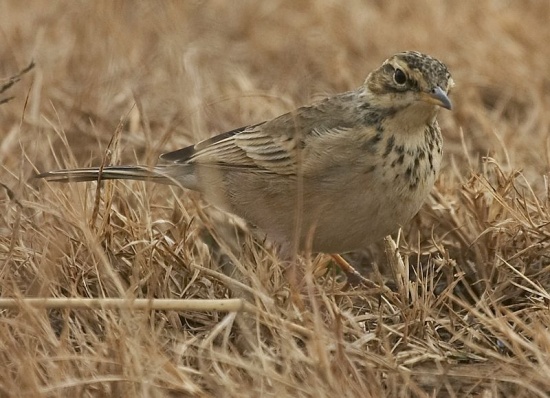 Anthus cinnamomeus
Identification
15 to 17 cm

Buff-brown streaky upperparts
White or pale buff underparts
Streaked breast
Unstreaked belly and flanks
Boldly patterned face; pale eyestripe, dark malar stripe
Whitish outer tail-feathers
Long pink legs
Slender dark bill with a yellowish base to the lower mandible

Juvenile birds have a blotched breast, scalloping on the upperparts and some streaking on the flanks.
Similar Species
Long-billed Pipit, which has buff outer tail and a sparrow-like call.
Distribution
This is the most common Pipit in eastern and southern Africa.
Western Africa: Mauritania, Guinea, Mali, Ivory Coast, Ghana, Benin, Nigeria, Chad, Cameroon, Central African Republic, Equatorial Guinea, Gabon, Congo, Angola
Eastern Africa: Sudan, South Sudan, Eritrea, Ethiopia, Djibouti, Somalia, Kenya, Uganda, Democratic Republic of the Congo, Rwanda, Burundi, Tanzania, Zanzibar, Zambia, Mozambique, Malawi
Southern Africa: Namibia, Botswana, Zimbabwe, South Africa, KwaZulu-Natal, Lesotho, eSwatini
Middle East: Arabian Peninsula, Saudi Arabia, Yemen
Taxonomy
This species was formerly regarded a part of a much larger species called Anthus novaseelandiae which was split in African Pipit, Mountain Pipit, Paddyfield Pipit, Richard's Pipit and Australasian Pipit.
Jackson's Pipit was recently lumped into this species.
Subspecies
More than ten subspecies are recognized[1]:
Cameroon (Mount Cameroon and Mount Manenguba)
Highlands of western and south-eastern Ethiopia
Eastern Zaire (Itombwe Highlands and Mount Kabobo)
Some authors split camaroonensis from Cameroon as Cameroon Pipit and latistriatus as Jackson's Pipit.
Habitat
Open habitats at altitudes of up to over 3000 m, grasslands and fields.
Behaviour
It has an undulating flight and can often be seen perching on posts and bushes. On the ground it walks with a strutting gait and often holds itself very erect.
Vocalisation
The song is a repeated series of twittering notes, given during an undulating song-flight or from a low perch.
References
Clements, J. F., T. S. Schulenberg, M. J. Iliff, S. M. Billerman, T. A. Fredericks, B. L. Sullivan, and C. L. Wood. 2019. The eBird/Clements Checklist of Birds of the World: v2019. Downloaded from http://www.birds.cornell.edu/clementschecklist/download/
Avibase
Birdforum thread discussing id of an African Pipit
Wikipedia
Recommended Citation
External Links