Alternative names: Sharpe's Babbler; Sharpe's Pied Babbler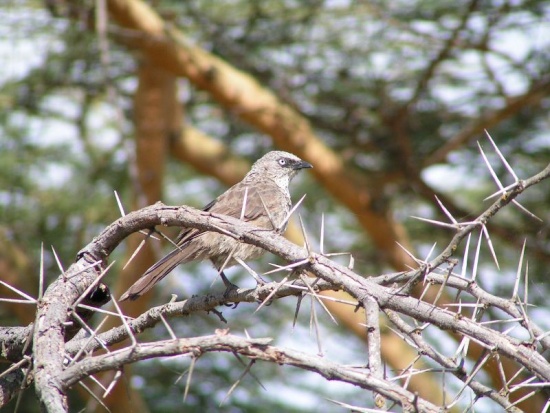 Turdoides sharpei
Disambiguation: For the species Turdoides melanops, see Black-faced Babbler
Identification
24 - 26cm.
Dull grey brown plumage
Vepres with white throat
Sharpei with white-tipped head feathering
Pale yellowish eye
Black lores
Dark tail
Similar to Black-faced Babbler, but ranges don't overlap.
Distribution
Found in East Africa: Burundi, Democratic Republic of the Congo, Kenya, Rwanda, Tanzania, and Uganda.
Widespread and locally common.
Taxonomy
Black-faced Babbler and Black-lored Babbler were previously together in one species, Black-lored Babbler which had the scientific name Turdoides melanops currently used for Black-faced Babbler.
Subspecies[1]
Two subspecies accepted:
Habitat
Dense bush, acacia thickets and forest margins.
Behaviour
Resident species, but obviously some movements occur as it may be absent in some regions for weeks or months.
Diet
Feeds on invertebrates, small reptiles and fruits.
Forages in trees, usually higher than Brown Babbler, but also in grass and near ground. Usually seen in parties of 4 to 5 birds, sometimes mixing with other Babblers, Crested Francolins, Nubian Woodpeckers, Crowned Hornbills or wood-hoopoes.
Breeding
Breeding season differs through range. Like other Turdoides-babbler this species is a co-operative breeder. The nest is an untidy cup made of roots, creeper stems, twigs and grass stems. It's placed in a dense bush. Lays 2 to 3 eggs. Levaillant's Cuckoo seems to parasitize this species as its reaction towards the cuckoo are very aggressive.

References
Clements, JF. 2008. The Clements Checklist of Birds of the World. 6th ed., with updates to December 2008. Ithaca: Cornell Univ. Press. ISBN 978-0801445019.
Avibase
Del Hoyo, J, A Elliott, and D Christie, eds. 2007. Handbook of the Birds of the World. Volume 12: Picathartes to Tits and Chickadees. Barcelona: Lynx Edicions. ISBN 978-8496553422
Recommended Citation
External Links