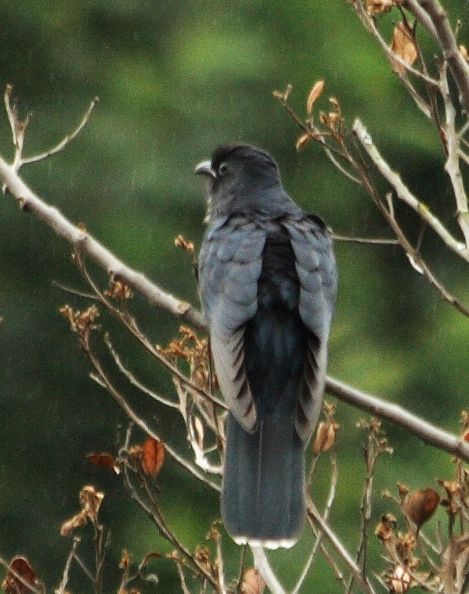 Cuculus clamosus
Identification
Length 29-31 cm, mass about 90 g. Plumage is black with a greenish gloss on the upperparts, and black below. The tail has a white tip. Some individuals (more females than males) have rufous and brown barring on the underparts. The bill, legs and feet are black, and the eyes brown.
There is variation in the colour of the underparts between the two subspecies.
Distribution
Sub-Saharan Africa
Western Africa: Guinea-Bissau, Guinea, Mali, Sierra Leone, Liberia, Ivory Coast, Ghana, Togo, Nigeria, Chad, Cameroon, Central African Republic, Equatorial Guinea, Gabon, Congo, Angola
Eastern Africa: Sudan, Eritrea, Ethiopia, Kenya, Uganda, Rwanda, Burundi, Tanzania, Zambia, Mozambique, Malawi
Southern Africa: Namibia, Botswana, Zimbabwe, South Africa, KwaZulu-Natal, eSwatini
Southern African birds are intra-African migrants, arriving in their breeding grounds in September and October.
Taxonomy
Subspecies[1]
There are two subspecies:
C. c. clamosus: The southern race (described above)
Habitat
Forest, woodland, thickets, and plantations.
Behaviour
Generally solitary. Seldom seen, even when calling; usually perched high in a tree.
Diet
Forages, mainly for caterpillars, in the canopy; sometimes takes prey aerially or on the ground. Also eats other insects, birds eggs and nestlings.
Breeding
A brood parasite; hosts are mainly Laniarius shrikes, including the Tropical Boubou, Southern Boubou, and Crimson-breasted Shrike in southern Africa.
Vocalisation
The song is distinctive: The male has a loud, monotonous whistle "hoop-hoo whoooo"; also a wild, whirling "whirly, whirly, whirly,.....". In southern Africa call from September to December.
References
Clements, JF. 2008. The Clements Checklist of Birds of the World. 6th ed., with updates to December 2008. Ithaca: Cornell Univ. Press. ISBN 978-0801445019.
Avibase
Hockey PAR, Dean WRJ & Ryan PG (eds) 2005. Robert's Birds of Southern Africa, 7th edition. Cape Town: John Voelcker Bird Book Fund. ISBN 0620340533
Recommended Citation
External Links
GSearch checked for 2020 platform.