Disambiguation: For the species Eupodotis ruficrista, see Red-crested Bustard.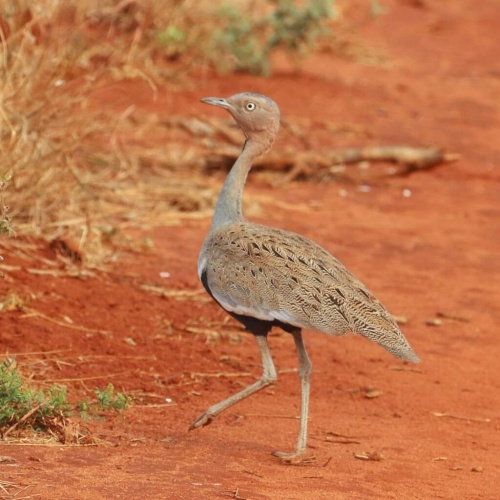 Lophotis gindiana
Eupodotis gindiana
Identification
Length 46-53 cm (18-21 in)

Black belly
No white in wings
Similar Species
Smaller than Black-bellied Bustard and Hartlaub's Bustard.
Distribution
Southeastern Sudan to southern Ethiopia, Somalia, Kenya and northern Tanzania.
Taxonomy
This is a monotypic species[1].
Lophotis vs. Eupodotis
Some authorities (Clements 2015) place Savile's Bustard, Buff-crested Bustard and Red-crested Bustard in the genus Eupodotis. However, Dickinson (2014) and Gill & Donsker (2015) place these three taxa in Lophotis.
Habitat
Dry woodland; seldom in open grassland.
Behaviour
Diet
There is not too much information available. They do eat seeds, green herbage and insects. They are thought to eat many ants.
Breeding
Their clutch contains 1-2 eggs, which are laid in a nest on bare ground.
Vocalisation
Piercing whistles and clicks before display flight.
References
Clements, J. F., T. S. Schulenberg, M. J. Iliff, S. M. Billerman, T. A. Fredericks, B. L. Sullivan, and C. L. Wood. 2019. The eBird/Clements Checklist of Birds of the World: v2019. Downloaded from http://www.birds.cornell.edu/clementschecklist/download/
Dickinson, EC, ed. 2003. The Howard and Moore Complete Checklist of the Birds of the World. 3rd ed., with updates to December 2007 (Corrigenda 7). Princeton: Princeton Univ. Press. ISBN 978-0691117010
Sibley, CG and BL Monroe. 1996. Birds of the World, on diskette, Windows version 2.0. Charles G. Sibley, Santa Rosa, CA, USA.
Sinclair, I and P Ryan. 2003. Birds of Africa South of the Sahara. Princeton: Princeton Univ. Press. ISBN 978-0691118154
Collar, N. (2020). Buff-crested Bustard (Eupodotis gindiana), version 1.0. In Birds of the World (J. del Hoyo, A. Elliott, J. Sargatal, D. A. Christie, and E. de Juana, Editors). Cornell Lab of Ornithology, Ithaca, NY, USA. https://doi.org/10.2173/bow.bucbus1.01
Recommended Citation
External Links