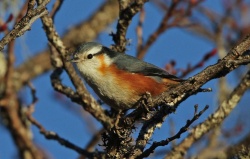 Genus: Sitta
Description
Nuthatches from North America, Europe, Northern Africa and Asia.
Nuthatches have a dumpy, compact body, a short tail, rounded wings, short legs and a strong bill.
They live in forests and woodland (except two species) and are known to climb head-first down trees. Many species reduce the size of their nest hole with mud.
Taxonomy
Sitta is a genus in the family Sittidae.

References
Clements, JF. 2011. The Clements Checklist of Birds of the World. 6th ed., with updates to August 2011. Ithaca: Cornell Univ. Press. ISBN 978-0801445019. Spreadsheet available at http://www.birds.cornell.edu/clementschecklist/downloadable-clements-checklist
Del Hoyo, J, A Elliott, and D Christie, eds. 2008. Handbook of the Birds of the World. Volume 13: Penduline-tits to Shrikes. Barcelona: Lynx Edicions. ISBN 978-8496553453
Recommended Citation
Pages in category 'Sitta'
The following 27 pages are in this category, out of 27 total.