Alternative name: Cut-throat Finch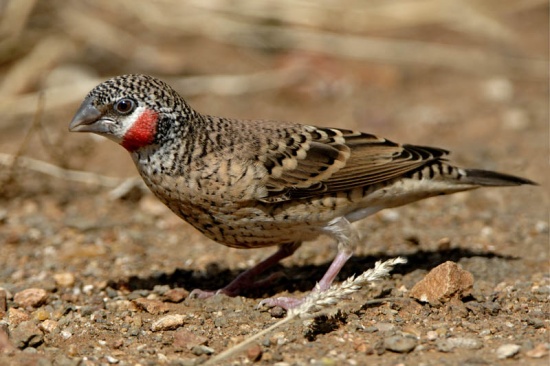 Amadina fasciata
Identification
Length 12 cm, mass 17-18 g
Adult male: Upper parts are brown with fine black bars; wing bar formed by a dark band and pale tip on the greater and median wing-coverts. The chin is white, bordered by a red throat band that extends to the ear coverts.
Adult female: Similar to the male, but without the red "cut-throat" marking.
Distribution
Sub-Saharan Africa
Western Africa: Mauritania, Senegambia, Senegal, The Gambia, Guinea-Bissau, Guinea, Mali, Liberia, Ivory Coast, Burkina Faso, Ghana, Benin, Nigeria, Niger, Chad, Cameroon, Central African Republic and Angola
Eastern Africa: Sudan, Eritrea, Ethiopia, Somalia, Kenya, Uganda, Tanzania, Zambia, Mozambique and Malawi
Southern Africa: Namibia, Botswana, Zimbabwe, South Africa, KwaZulu-Natal and Swaziland
Taxonomy
Subspecies
There are four subspecies[1]:
Habitat
Woodland and savanna.
Behaviour
Found in pairs when breeding, and in flocks when not breeding. Often associates with other species such as Red-headed Finch, weavers and Red-billed Quelea when feeding.
Breeding
Monogamous. The nest built of grass in the old nest of a Ploceus Weaver, Red-billed Buffalo Weaver, Red-headed Weaver or Woodpecker. Two to seven eggs are laid and incubated for 12-13 days by both sexes. Nestlings are fed by both adults.
This species has been known to hybridise with the Red-headed Finch Amadina erythrocephala (Tarboton, 2007).
References
Clements, JF. 2011. The Clements Checklist of Birds of the World. 6th ed., with updates to August 2011. Ithaca: Cornell Univ. Press. ISBN 978-0801445019. Spreadsheet available at http://www.birds.cornell.edu/clementschecklist/downloadable-clements-checklist
Avibase
Hockey, PAR, WRJ Dean, and PG Ryan, eds. 2005. Roberts' Birds of Southern Africa. 7th ed. Cape Town: John Voelcker Bird Book Fund. ISBN 978-0620340533
Tarboton W. 2007. Hybrid Red-headed x Cut-throat Finch. http://www.birdinfo.co.za/landbirds/34_hybrid_red-headed_cut-throat_finch.htm. Downloaded 22 October 2007.
Recommended Citation
External Links