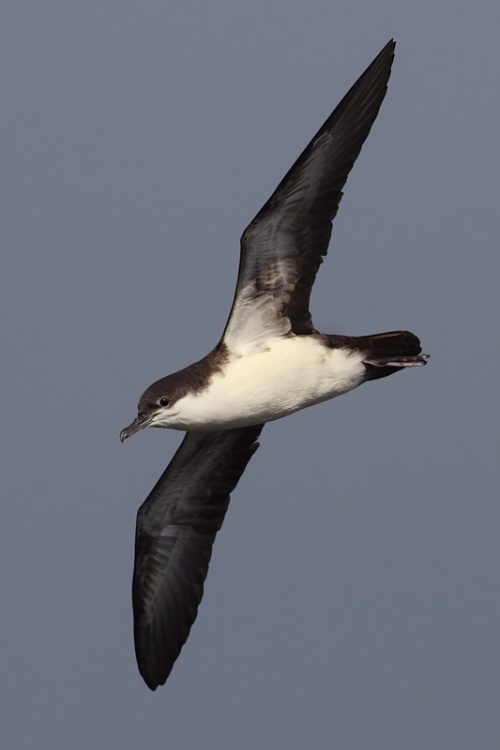 Puffinus subalaris
Identification
It's a slender-bodied shearwater, about 29 to 31 cm in length and a wingspan of 63 cm. 123 to 225 g in weight.
Has dark brown upperparts, undertail and partial underwing. The rest of the underparts is white. Sometimes, the underwings have a dark mottling that may be complete. Both sexes and juvenile after fledging are alike.
Similar Species
Manx Shearwater is slightly larger with longer more-pointed wings, and white undertail coverts.
Cory's Shearwater is much larger with much lighter brown body and wings, heavy yellow bill and white tail band.
Great Shearwater is much larger with lighter body, smudgy brown belly, neat cap, narrow pointed wings and white tail band.
Distribution
Breeds on the Galapagos Islands.
Largely sedentary, although individuals are commonly seen as far as the Oaxacan coast of Mexico.
Taxonomy
This is a monotypic species.
It's still considered to be a subspecies of Audubon's Shearwater by some authorities.
Habitat
Tropical waters.
Behaviour
Breeding
It is a colonial breeder, nesting in small burrows and crevices in rocks. One egg is laid and incubated by both parents for 50; the young fledge 70 days later. At least in some populations, the adults visit the burrows during the day, opposite many other Shearwaters.
Diet
The Galapagos shearwater is a gregarious species and will feed at sea with other shearwaters and boobies. It flies low over the water and feeds on squid, fish and offal
References
Clements, J. F., T. S. Schulenberg, M. J. Iliff, B.L. Sullivan, C. L. Wood, and D. Roberson. 2013. The eBird/Clements checklist of birds of the world: Version 6.8., with updates to August 2013. Downloaded from http://www.birds.cornell.edu/clementschecklist/download/
Paper by Austin et al. (2004) describing phylogeny of small shearwaters
Recommended Citation
External Links