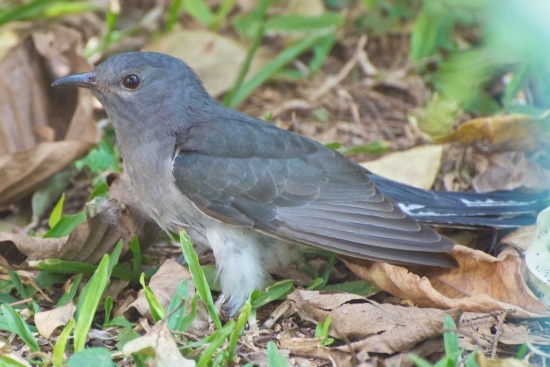 Cacomantis passerinus
Identification
18–22 cm (7-8½ in); Generally a small cuckoo with a long tail and a rather thin curved bill.
Male
Dark grey with blackish wings and tail
White vent (sometimes also belly)
White bars and spots on undertail
Hepatic Female
Bright rufous above with some black chevrons on wings and mantle
Rufous tail with no markings
White below with fine black bars
No supercilium (see Banded Bay Cuckoo)
Juveniles
Duller than adults
Undertail with black and pale bars
Non-hepatic females are rare. They are duller than males and browner.
Distribution
From the Himalayas of N Pakistan and N India to Nepal, Bhutan and maybe Assam. Also south through peninsular India.
Winters in Sri Lanka and the Maldives
Partially migratory. Himalayan birds move south, Indian birds are probably resident. Arrives in Sri Lanka in October and leaves again in April.
Taxonomy
This is a monotypic species[1].
Sometimes considered conspecific with Plaintive Cuckoo Cacomantis merulinus. The song of both species is very similar, juveniles look the same and their host species are the same too. The split bases on reported sympatry in NE India.
Habitat
Open woodland, secondary forest, scrubland, parkland, gardens, agricultural areas, towns and villages, also subtropical pine forest. Common in most of its range.
Behaviour
Diet
Their diet consists mostly of hairy caterpillars.
Breeding
Breeds from June to September. Like many other cuckoos this species is a brood-parasitic.
Host species are Prinias (e.g. Ashy Prinia), Cisticolas (e.g. Zitting Cisticola) and Common Tailorbird. Evicts host's eggs.
Vocalisation
Sings from treetops, frequently changing position and tree. Sings at night and in dim weather at day. Silent in winter.
Recording by Alok Tewari
Mangar Bani Forest, Faridabad-Gurgaon Road, Haryana, India, June-2018.
Calling in a soundscape that has calls of Purple Sunbird, Common Babbler, Common Hawk-cuckoo and Rufous Treepie in the BG.
References
Clements, J. F., T. S. Schulenberg, M. J. Iliff, D. Roberson, T. A. Fredericks, B. L. Sullivan, and C. L. Wood. 2017. The eBird/Clements checklist of birds of the world: v2017, with updates to August 2017. Downloaded from http://www.birds.cornell.edu/clementschecklist/download/
Handbook of the Birds of the World Alive (retrieved July 2015)
Recommended Citation
External Links