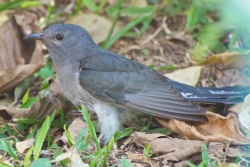 Genus: Cacomantis
Description
Nine species of Cuckoo found in Asia and Australasia.
They all feed mainly on insects and are brood parasites.
Taxonomy
Cacomantis is a genus in the Family Cuculidae.
Pallid Cuckoo used to be placed in the genus Cuculus. White-crowned Koel was formerly placed in its own genus Caliechthrus.
References
Clements, J. F., T. S. Schulenberg, M. J. Iliff, B.L. Sullivan, C. L. Wood, and D. Roberson. 2012. The eBird/Clements Checklist of Birds of the World. 6th ed., with updates to October 2012. Ithaca: Cornell Univ. Press. ISBN 978-0801445019. Spreadsheet available at http://www.birds.cornell.edu/clementschecklist/downloadable-clements-checklist
Del Hoyo, J, A Elliot, and J Sargatal, eds. 1997. Handbook of the Birds of the World. Volume 4: Sandgrouse to Cuckoos. Barcelona: Lynx Edicions. ISBN 978-8487334221
Recommended Citation
Pages in category 'Cacomantis'
The following 9 pages are in this category, out of 9 total.