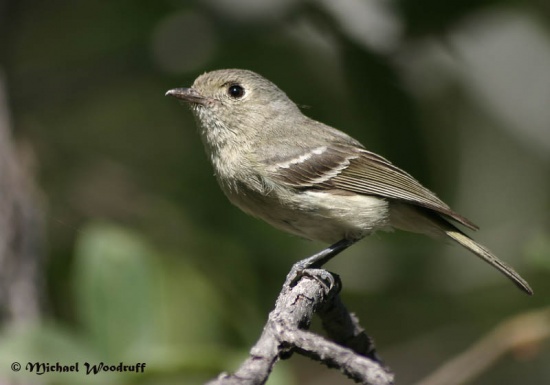 Vireo huttoni
Identification
4 in. Olive-grey upperparts and yellow underparts. Eye ring is white and broken above eye. Undertail coverts are white. Wings are dark with two white bars. Sexes are similar.
Similar Species
Often mistaken for the Ruby-crowned Kinglet, but note the black feet and slightly larger size of the vireo.
Distribution
Taxonomy
There are two recognized groups of subspecies: the Pacific group has 8 subspecies and the Interior group has 5 subspecies.[1] Recent DNA evidence may lead to a split of these groups into separate species.[2].
Habitat
Deciduous and mixed forests, primarily oak woodlands.
Behaviour
Diet: Gleaner of insects.
Breeding: Builds a hanging cup nest suspended from a fork of a tree. The female lays 3-4 eggs. The eggs are mostly white in color, with scattered brown spotting.
Migration: Some short-distance and altitudinal migration, but mostly resident. They may join with other species in flocks in winter.
References
Clements, JF. 2008. The Clements Checklist of Birds of the World. 6th ed., with updates to December 2008. Ithaca: Cornell Univ. Press. ISBN 978-0801445019. Spreadsheet available at http://www.birds.cornell.edu/clementschecklist.
Wikipedia
Recommended Citation
External Links
Search the Gallery using the scientific name:
Search the Gallery using the common name:
GSearch checked for 2020 platform.