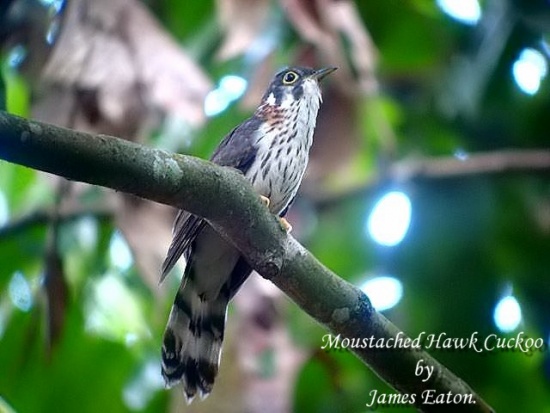 Alternative names: Lesser Hawk-Cuckoo; Small Hawk-Cuckoo; Dwarf Hawk-Cuckoo
Hierococcyx vagans
Cuculus vagans
Identification
26cm.
Dark brown upperparts
Dark grey crown
Whitish cheek and throat
Broad black moustache
Grey and black barred tail
Lighter brown barred wings
Pale patch in wings in flight
Whitish underparts with dark streaks
Sexes similar. Juveniles have a brown crown.
Distribution
From southern Burma and southern Thailand south through peninsular Malaysia to Sumatra and Borneo. Records from southern Laos, vagrant in Java.
Uncommon in Thailand, rare in Sumatra and Borneo.
Taxonomy
This is a monotypic species.
Some authorities place this species in genus Cuculus.
Habitat
Moist lowland forests, prefers lower hill slopes and lowlands, bamboo forest and alluvial forest. Up to 900m in Thailand.
Behaviour
Diet
Feeds on insects.
Breeding
Juveniles were seen in Malaysia in July. A brood parasitic, host species unknown. No other information about breeding.
Movements
Partially migratory, some populations resident. No precise information.
References
Clements, J. F., T. S. Schulenberg, M. J. Iliff, B.L. Sullivan, C. L. Wood, and D. Roberson. 2012. The eBird/Clements Checklist of Birds of the World. 6th ed., with updates to October 2012. Ithaca: Cornell Univ. Press. ISBN 978-0801445019. Spreadsheet available at http://www.birds.cornell.edu/clementschecklist/downloadable-clements-checklist
Del Hoyo, J, A Elliot, and J Sargatal, eds. 1997. Handbook of the Birds of the World. Volume 4: Sandgrouse to Cuckoos. Barcelona: Lynx Edicions. ISBN 978-8487334221
Recommended Citation
External Links