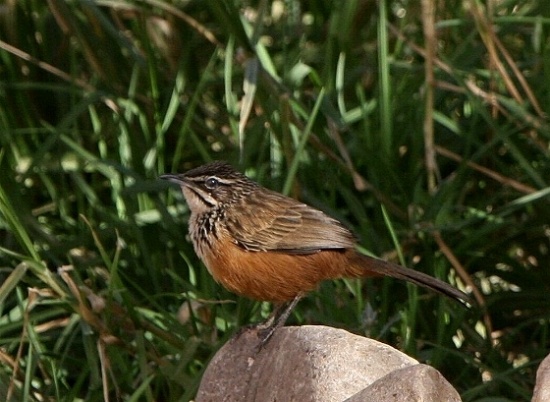 Alternative name: Damara Rock-jumper
Achaetops pycnopygius
Chaetops pycnopygius
Identification
Length 16-17 cm.
Adult: The back is dark and heavily streaked, the breast white with black spots, and the belly rich rufous. The female is more extensive tawny on belly. Juveniles are duller and have weaker markings.
Distribution
Namibia and south-western Angola.
Common in parts of its range.
Taxonomy
This species was formerly placed in the genus Chaetops3 due to structural similarities. However, molecular evidence shows that the Rockrunner is not closely related to the Cape and Drakensberg Rockjumpers, but is related to the Cape Grassbird Sphenoeacus afer in the Sylviidae1,5.
Subspecies
There are two subspecies[2]:
A. p. spadix in Huila and Namibe escarpement in southwest Angola
Habitat
Rocky slopes.
Behaviour
Usually found singly or in pairs, on the ground or on rocks; runs rather than flies. Forages on the ground, mainly for insects.
Breeding
Monogamous and territorial. The nest is an open cup built of grass in a dense grass tussock. Two or three eggs are laid November to March.
References
Beresford P, Barker FK, Ryan PG & Crowe TM. 2005. African endemics span the tree of songbirds (Passeri): molecular systematics of several evolutionary 'enigmas'. Proc. R. Soc. B 272, 849–858.
Clements, J. F., T. S. Schulenberg, M. J. Iliff, T. A. Fredericks, J. A. Gerbracht, D. Lepage, S. M. Billerman, B. L. Sullivan, and C. L. Wood. 2022. The eBird/Clements checklist of Birds of the World: v2022. Downloaded from https://www.birds.cornell.edu/clementschecklist/download/
Dickinson EC (ed.) 2003. The Howard & Moore Complete Checklist of the Birds of the World. 3rd ed. Princeton Univ. Press, Princeton, NJ, USA. ISBN 9780691117010
Gill F & Wright M. 2008. Birds of the World: Recommended English Names. Princeton University Press, Princeton NJ, USA. 2006. ISBN 9780691128276 Update (2008) downloaded from http://worldbirdnames.org/names.html.
Hockey PAR, Dean WRJ & Ryan PG (eds) 2005. Robert's Birds of Southern Africa, 7th edition. John Voelcker Bird Book Fund, Cape Town, South Africa. ISBN 0620340533
External Links
GSearch checked for 2020 platform.1