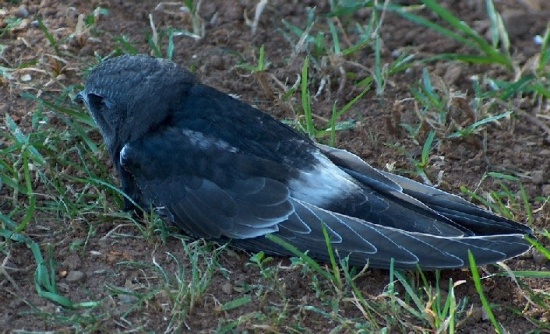 Apus caffer
Identification
14 cm (5½ in)

Dark overall plumage
Pale throat patch
Narrow white rump in the shape of a broad 'U' pointing down the tail
Short forked tail
Long swept-back wings
Distribution
Africa and southern Europe. In Europe found locally in Spain and Portugal. In Africa locally in Morocco and widespread south of the Sahara. Found in Western, Central, Eastern and Southern Africa, avoiding tropical forest.
Taxonomy
This is a monotypic species[1].
Some authors claim birds of Angola and Congo to belong to the subspecies ansorgei or birds of tropical zones to streubelii, but this is not accepted by others.
Habitat
Aerial, over open country and Eucalyptus plantations.
Behaviour
Diet
The diet mainly consists of flying insects.
Breeding
Monogamous; sometimes breed cooperatively. They often occupy the nests of Little Swifts and swallows (for example in Portugal they often take over nests of Red-rumped Swallow. Once occupied, the nest is lined with feathers and saliva, and 1-2 eggs are laid.
References
Clements, J. F., T. S. Schulenberg, M. J. Iliff, D. Roberson, T. A. Fredericks, B. L. Sullivan, and C. L. Wood. 2018. The eBird/Clements checklist of birds of the world: v2018. Downloaded from http://www.birds.cornell.edu/clementschecklist/download/
Handbook of the Birds of the World Alive (retrieved June 2017)
Wikipedia
Recommended Citation
External Links