Alternative name: Iago Sparrow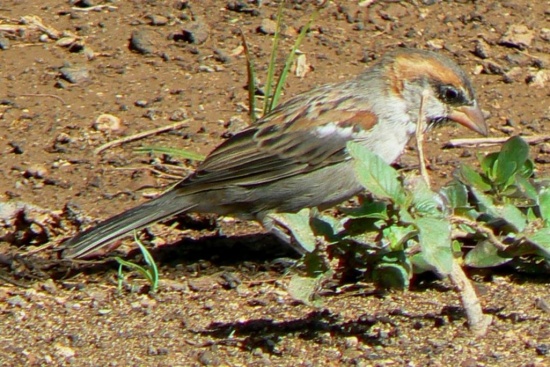 Passer iagoensis
Identification
13 cm in length with a wingspan of 17.5 to 20cm.
Black crown, throat and eyestripe
Grey nape
Rufous sides to the head
Whitish cheeks and underparts
Reddish-brown upperparts with black streaks
Females are grey-brown above with dark streaks and whitish below. Juveniles are similar to females.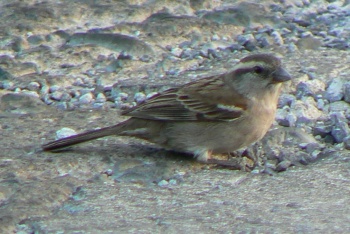 Similar species
The female is very similar to the female of House Sparrow but has a more obvious pale stripe over the eye.
Distribution
Endemic to the Cape Verde Islands off western Africa. Found on all islands but Fogo.
Common and widespread in its small range.
Taxonomy
This is a monotypic species[1].
Forms a superspecies with Socotra Sparrow, Kenya Rufous Sparrow and Southern Rufous Sparrow. All are sometimes considered conspecific and merged in Rufous Sparrow.
Habitat
Lava plains, desert and dry scrub. Also extending into cultivated land and villages and towns. In the town of Mindelo breeds together with House Sparrow.
Behaviour
A gregarious species, usually encountered in flocks.
Mainly sedentary.
Diet
Feeds mainly on seeds of small plants and domestic scrap in urban areas. The nestlings are fed with caterpillars and grasshoppers.

Breeding
Breeding season from September to March. The nest is made of grass, lined with hair and feathers and usually built in a hole in a cliff or wall. The female lays three to five eggs.

References
Clements, JF. 2011. The Clements Checklist of Birds of the World. 6th ed., with updates to August 2011. Ithaca: Cornell Univ. Press. ISBN 978-0801445019. Spreadsheet available at http://www.birds.cornell.edu/clementschecklist/downloadable-clements-checklist
Del Hoyo, J, A Elliott, and D Christie, eds. 2009. Handbook of the Birds of the World. Volume 14: Bush-shrikes to Old World Sparrows. Barcelona: Lynx Edicions. ISBN 978-8496553507
Recommended Citation
External Links