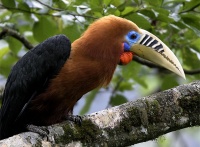 Family: Bucerotidae
Description
The Hornbills of Africa and Asia.
A very distinctive family of birds. They share:
A long, decurved bill surmounted by a casque (very large in some species)
Males are bigger than females
Black, white and grey as predominant plumage colours
Colorfoul bare parts (bill, bare skin around eye and throat)
Females of most species seal themself into her nest-cavity, leaving only a narrow slit open. The male passes the food through that slit.
Most species inhabit forests, some more open woodland savanna
Taxonomy
Bucerotidae is a family in the order Bucerotiformes.
The two species of the genus Bucorvus are now placed in a separate family. Both families were formerly placed in the order Coraciiformes.
References
Del Hoyo, J, A Elliot, and J Sargatal, eds. 2001. Handbook of the Birds of the World. Volume 6: Mousebirds to Hornbills. Barcelona: Lynx Edicions. ISBN 978-8487334306
Recommended Citation
Subcategories
This category has the following 17 subcategories, out of 17 total.