Alternative name: American Dusky Flycatcher
Disambiguation: For African Dusky Flycatcher (Muscicapa adusta) see African Dusky Flycatcher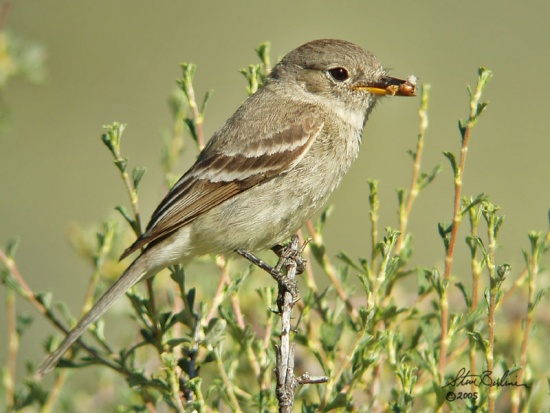 Empidonax oberholseri
Identification
13-15.2 cm, 9.3-11.4 g
Back gray with slight olive tinge; breast buffy, with light throat; belly very pale yellow. Narrow white eye ring and white wing bars; long tail.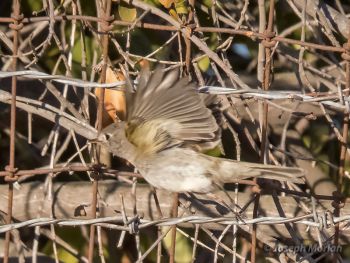 Similar species
Hammond's Flycatcher differs most obviously in its longer primary projection, also slightly darker breast and smaller bill; although usually seen in tall conifers, on migration Hammond's can occur with Dusky in lower scrub. Gray Flycatcher has longer bill with dark tip. Gray dips tail down like a phoebe while Dusky pumps tail up.
Distribution
North and Central America
Breeds western North America from central British Columbia south to California, Arizona and New Mexico; winters to southern Mexico.
Taxonomy
This is a monotypic species[1].
Formerly sometimes treated as a subspecies of Gray Flycatcher as Empidonax wrightii oberholseri, though the two are not particularly closely related within the genus[2].
Habitat
Scrub, brushland, thickets, open low coniferous forests, and mountain chaparral. Unlike Hammond's Flycatcher, not in tall, dense conifers except at the edges of open areas or where where tree spacing is more open.
Behaviour
Diet
The diet includes insects.
Breeding
The nest is cupshaped.
References
Clements, JF. 2011. The Clements Checklist of Birds of the World. 6th ed., with updates to August 2011. Ithaca: Cornell Univ. Press. ISBN 978-0801445019. Spreadsheet available at http://www.birds.cornell.edu/clementschecklist/downloadable-clements-checklist
Del Hoyo, J, A Elliot, and D Christie, eds. 2004. Handbook of the Birds of the World. Volume 9: Cotingas to Pipits and Wagtails. Barcelona: Lynx Edicions. ISBN 978-8487334696
Avibase
All About Birds
Recommended Citation
External Links