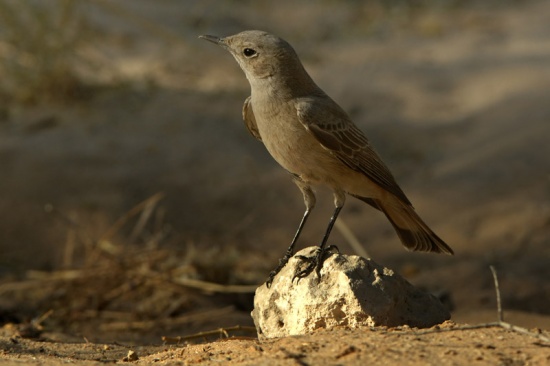 Oenanthe familiaris
Cercomela familiaris
Identification
Size 14-15cm - this bird is similar in size to a Cape Sparrow, but quite stockily built.
The bill is short and straight. It is black in color. The legs and feet are black. This is a dull brown bird, which is paler below. It often has a orange looking patch on the ear-coverts. It has a shortish tail, which has dark brown centre feathers, and orange-buff outer tail feathers and rump.
Distribution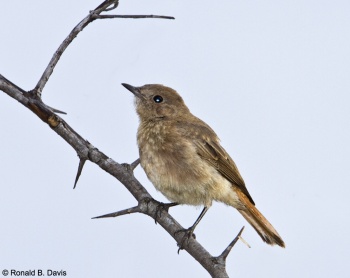 Africa south of the Sahara:
Western Africa: Mauritania, Senegal, Guinea, Mali, Ivory Coast, Ghana, Togo, Nigeria, Niger, Chad, Cameroon, Equatorial Guinea, Gabon, Democratic Republic of Congo, Angola and Zaire
Eastern Africa: Sudan, South Sudan, Eritrea, Ethiopia, Kenya, Uganda, Rwanda, Burundi, Tanzania, Zambia, Mozambique and Malawi
Southern Africa: Namibia, Botswana, Zimbabwe, South Africa and Swaziland
Middle East: Arabian Peninsula
Taxonomy
Subspecies
Eight subspecies recognized[1]:
It's placed in genus Cercomela by Clements.
Habitat
Rocky mountain slopes and its outcrops, eroded gullies, sparse woodland along drainage lines, farmyards and village gardens.
Behaviour
Diet
The Afrikaans name "spekvreter" (means "fat-eater"), and comes from the fact that it developed the habit of feeding on the lard used to grease wagons by the voortrekkers. It is a friendly bird and often hangs around farmhouses and homesteads. It eats insects, fruit, animal fat and scraps from around the house or farmyard by flying down to the ground from its perch and snaps up its prey.
Breeding
It nests July- April, but will breed at any time when conditions are right - especially in the drier areas. The nest is a cup of hair, wool, feathers or soft plant material on a larger pad of coarser material, often anchored on a base of earth or stones. This is situated in a hole in the ground, the wall of a donga or rock face. It also nests on buildings, in nest boxes or even in disused Sociable Weaver nest.
Vocalisation
The call is a harsh chak-chak or peep-chak-chak when alarmed.
References
Clements, J. F., T. S. Schulenberg, M. J. Iliff, D. Roberson, T. A. Fredericks, B. L. Sullivan, and C. L. Wood. 2017. The eBird/Clements checklist of birds of the world: v2017, with updates to August 2017. Downloaded from http://www.birds.cornell.edu/clementschecklist/download/
Gill, F and D Donsker (Eds). 2011. IOC World Bird Names (version 2.10). Available at http://www.worldbirdnames.org/.
Recommended Citation
External Links