In my spare time over the last couple of years I have finally managed to produce a book that I think readers here might enjoy! It contains 101 short essays (about 300 words each) inspired by 101 East African Birds. It's not a field guide, and it's not a text book, but instead contains all the interesting scientific (fully referenced!) stories that I love and aims to make these accessible to anyone. Even if you never want to go to East Africa, I think there are stories here for everyone, from how goshawks fly through dense forests at high speed without crashing, to why tropical birds are colourful.
You can purchase from the publisher:
101 Curious Tales of East African Birds
, amazon
101 Curious Tales of East African Birds: A Brief Introduction to Tropical Ornithology: Amazon.co.uk: Beale, Colin: 9781784272913: Books
or your local bookshop!
I think it's fun and would love to hear other people's opinions! Oh, and each purchase contributes directly to the African Bird Club, to fund East African students attend the next Pan-African Ornithological Congress.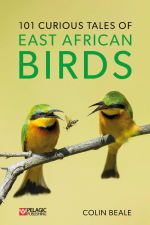 Last edited: