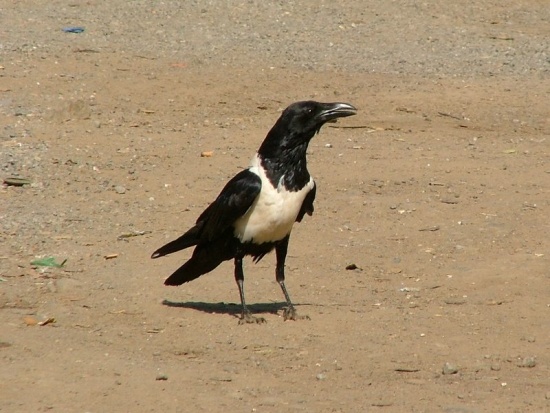 Alternative names: African Pied Crow; White-bellied Crow
Corvus albus
Identification
45 cm. A large Crow:
Black head, neck, tail, bill and wings
White collar on upper mantle, broadening on underparts over breast and foreflanks.
Dark brown eye
Sexes similar. Juveniles have less glossed black than adults.
Distribution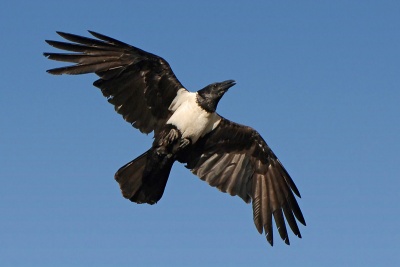 Subsaharan Africa and Madagascar.
Absent in most of Ethiopia and Eritrea and another gap in the arid regions of Namibia and Botswana. Records in south Morocco.
Common and widespread in its range.
Taxonomy
This is a monotypic species.
Forms a superspecies with Brown-necked Raven and is known to hybridize with this species in the northeast of its range.
Habitat
Open country, open woodlands, grasslands, savanna, riverbanks and lakeshores. Often in human habitation including cities.
Behaviour
Diet includes insects and other small invertebrates, small reptiles, small mammals, young birds and eggs, grain, peanuts, carrion and any scraps of human food and fruit. Often seen near roads waiting for kills, also scavenging at rbbish dumps with Black Kites and Marabou Storks.
Usually foraging in paris or small groups. Sometimes larger flocks reported when food is abundant.
Breeding season varies with local rains. The nest is usually built in tall trees. 4-5 pale green brown spotted eggs, are laid. Incubation is 18-19 days and the young are usually fledged by around 45 days. Both sexes rear the young. The nest is sometimes parasitized by Great Spotted Cuckoo.

Vocalisation
The voice is described as a harsh ar-ar-ar-ar or karh-karh-karh.
References
Clements, JF. 2008. The Clements Checklist of Birds of the World. 6th ed., with updates to December 2008. Ithaca: Cornell Univ. Press. ISBN 978-0801445019.
Del Hoyo, J, A Elliott, and D Christie, eds. 2009. Handbook of the Birds of the World. Volume 14: Bush-shrikes to Old World Sparrows. Barcelona: Lynx Edicions. ISBN 978-8496553507
Recommended Citation
External Links