This article is incomplete.
This article is missing one or more sections. You can help the BirdForum Opus by expanding it.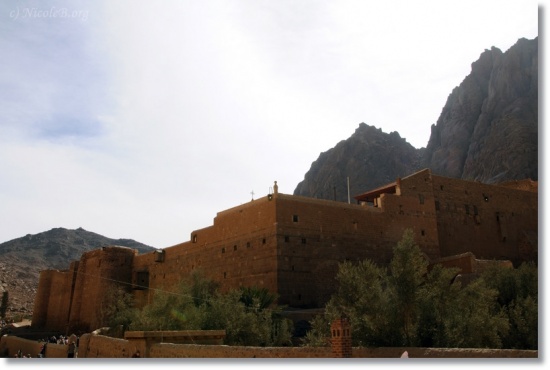 Alternative name: St. Catherine's Monastery
Overview
Situated in the center of the southern Sinai Peninsula, St. Catherine's monastery is a well-known tourist attraction and famous among birders as one of the very few reliable sites for the very local Sinai Rosefinch.
The monastery lies on the slopes of Mt Sinai and its gardens attract many migrants. Wadis and hills in this area hold a good selection of typical Sinai birds and part of the surrounding area has now been designated a national park.
Birds
Notable Species
The rosefinch is fairly common here and often to be seen around the souvenir stalls near the car-park. Tristram's Starling is another desert speciality that occurs here and one of the most sought-after Western Palearctic birds, Desert Owl, may be found in the mountains around the monastery. This species has been found in this area but it may not be present every year.
Other typical Sinai species include Sand Partridge and Chukar Partridge and passerines such as Desert Lark and Bar-tailed Desert Lark, Rock Martin and Hooded Wheatear and White-tailed Wheatear. Palestine Sunbird has been recorded and may now be established in the area.
Rarities
A major Western Palearctic rarity has been seen here, a Thick-billed Warbler in November 1991.
Check-list
Birds you can see here include:
Chukar Partridge, Sand Partridge, Rock Dove, Laughing Dove, Desert Owl, Desert Lark, Crested Lark, Rock Martin, Pied Wagtail, Hooded Wheatear, White-tailed Wheatear, Streaked Scrub Warbler, Common Chiffchaff, Palestine Sunbird, Tristram's Starling, Greenfinch, Sinai Rosefinch, White-crowned Black Wheatear
Other Wildlife
To do
Site Information
History and Use
To do
Areas of Interest
To do
Access and Facilities
Santa Katharina Monastery can be reached by road from Cairo, Suez or Sharm el Sheik (250km), and can be visited in a day from Eilat in Israel.
There is a holiday village nearby providing accommodation. Basic accommodation is available on site by booking ahead of time.
Contact Details
To do
External Links
Content and images originally posted by Steve