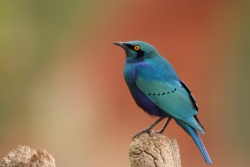 Genus: Lamprotornis
Description
Glossy Starlings; all from Africa.
Taxonomy
Lamprotornis is a genus in the family Sturnidae.
There is some uncertainity about the placement of some species:
References
Clements, J. F., T. S. Schulenberg, M. J. Iliff, D. Roberson, T. A. Fredericks, B. L. Sullivan, and C. L. Wood. 2015. The eBird/Clements checklist of birds of the world: v2015, with updates to August 2015. Downloaded from http://www.birds.cornell.edu/clementschecklist/download/
Del Hoyo, J, A Elliott, and D Christie, eds. 2009. Handbook of the Birds of the World. Volume 14: Bush-shrikes to Old World Sparrows. Barcelona: Lynx Edicions. ISBN 978-8496553507
Recommended Citation
Pages in category 'Lamprotornis'
The following 22 pages are in this category, out of 22 total.