Family: Passeridae
Description
This family is considered the "true sparrows" of the Old World. They are generally small, plump brown-grey birds with short tails and stubby, strong beaks. They are primarily seed-eaters, though they also consume small insects. A few species are highly habitutated to man, and will scavenge just about any kind of food in city envirorments.
Passeridae are endemic to Europe, Africa and Asia. In Australia and the New World, early settlers imported some species which quickly naturalised, particularly in urban and degraded areas. House Sparrows, for example, are now common and ubiquitous throughout North America, in every state of Australia except Western Australia, and over much of the heavily populated parts of South America. They are considered pests in many of these areas, competing with and actually killing some endemic species. However, there are few concerted efforts to reverse the mistake of deliberate introduction, except in parts of Australia.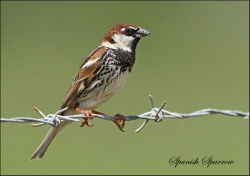 American sparrows, or New World sparrows, are not closely related to the true sparrows, despite some physical resemblance, such as the seed-eater's bill and frequently well-marked heads. They are in the family Emberizidae.
Taxonomy
Passeridae is a Family in the Order Passeriformes.

The closely related estrildid finches of the equatorial regions and Australasia are considered by some authorities to be members of the Passeridae, but most taxonomic schemes list them as the separate family Estrildidae.
Some authorities split the genus Montifringilla up and place some species in Pyrgilauda and/or Onychostruthus.
Furthermore the most members of the genus Petronia are sometimes placed in Gymnoris.
A new DNA-study has also shown that the Cinnamon Ibon (formerly either placed in Timaliidae or Zosteropidae) does belong to this family.
Subcategories
This category has the following 8 subcategories, out of 8 total.