This article is incomplete.
This article is missing one or more sections. You can help the BirdForum Opus by expanding it.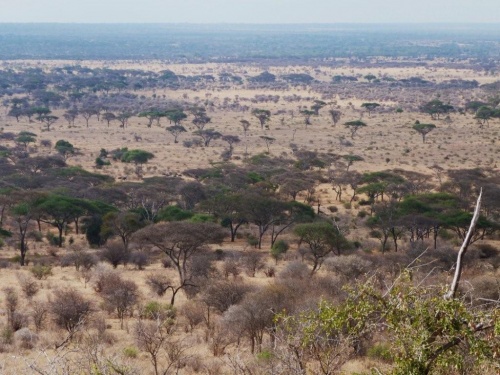 Overview
Tarangire National Park protects 2850km2 of typical savanna biome habitats around the perrenial Tarangire River. Originally designed to protect the dry season refuge of a substantial movement of large mammals, it's now better known for having one the highest densities of elephant anywhere in Africa. Habitats include swamps, riverine forest, Acacia woodland, broad-leaved woodland and grasslands. Annual rainfall varies from little over 400mm to 850mm, typically with two rainy season, the short rains in November and the long rains March - May.
Birds
Notable Species
Tarangire is, without doubt, one of the richest protected areas for birds in Tanzania, with well over 500 species recorded and day totals of over 140 species managed without particular effort. As such, the bird life must be considered richer than perhaps better known national parks such as Serengeti. Birders will be most keen to find three Tanzanian endemics: Ashy Starling, Yellow-collared Lovebird and Rufous-tailed Weaver. Whilst the latter is also present through Serengeti, the former two species, whilst common throughout Tarangire, are unlikely to be encountered anywhere else on Tanzania's Northern safari circuit. This is also the easiest place to locate Mottled Spinetail, a baobab specialist. Secretary Bird and Southern Ground Hornbill have healthy populations in the park and can be seen year round. From November to April a wealth of palearctic migrants can be found, most common being Willow Warbler and Eastern Olivaceous Warbler, but Common Rock Thrush, Thrush Nightingale, White-throated Robin and a range of shrikes should also be found, whilst Upcher's Warbler and other scarce wintering species need a modicum of luck.
Other African species not so often seen elsewhere include Jameson's Firefinch, Hildebrandt's Francolin, White-tailed Lark, Horus Swift, Senegal Plover (mainly Jan - May) and Buff-crested Bustard.
Rarities
Arnot's Chat and Blue Swallow are two surprising species each with single records within the National Park. Other vagrants must be recorded from time to time!
Check-list
Birds you can see here include:
"to do"
Other Wildlife
Tarangire is rightfully known for it's big game. As well as one of the highest densities of elephant in the world, lions, leopards and cheetah are all possible to see, and a wide variety of antelope are likely, including Fringe-eared Oryx (particularly in the southern half of the park), Lesser and Greater Kudu (again, most easily seen in the south), Klipspringer, Wildebeest, Steenbok, etc., etc. Large herds of Buffalo still roam, hyaena are often heard (but rather less frequently seen) and a variety of smaller fare are likely to be seen.
Site Information
History and Use
"to do"
Areas of Interest
Birders should ensure they cover the river and the three main habitats thoroughly: the plains (particularly the northern plains on the Small Serengeti circuit), the Acacia (now Vachellia!) woodlands and Silale swamp. With enough time or a base in the south of the park, the southern woodlands harbour a number of species that are hard to find in the north.
Depending on the rains, Silale swamp can be one of the most magnificent wetlands easily accessible to tourists in Tanzania. In a good year flocks of Great White Pelican and African Spoonbill compete with a near complete set of heron species: Little, Great White and Intermediate Egret, Grey, Purple, Goliath, Squacco, Rufous-Bellied, Striated and Black-crowned Night Herons are all possible. Storks are often impressive too: African Openbill, Yellow-billed, Marabou, Saddle-billed, Black, White and Abdim's Storks are all possible. There's usually a good scattering of ducks, terns and waders. A pair of African Marsh Harrier are often seen, as well as resident African Fish Eagles and many smaller raptors preying on the waterbirds. Dried areas of marsh are the place to look for White-tailed Lark.
The plains should be searched for sandgrouse - both Chestnut-bellied Sandgrouse and Yellow-throated Sandgrouse are usually present (the latter generally in smaller numbers), with Black-faced Sandgrouse more common in the bushed areas. Double-banded Courser are also regular in these habitats. Burnt areas are favoured by Temminck's Courser and the highly nomadic Chestnut-backed Sparrow-Lark. White-bellied and (in slightly bushier parts) Buff-crested Bustards are also on the plains.
Woodlands hold the greatest diversity of passerines, especially where there's a tangle of vegetation in the undergrowth - typical species include both Grey-headed and Sulphur-breasted Bushshrikes as well as Slate-colored Boubou, Ashy, Superb, Hildebrandt's and Greater Blue-eared Starlings. Northern Pied Babbler and Arrow-marked Babbler are noisy, so too is Green Wood-hoopoe. Abyssinian Scimitar-bill is also regularly seen, whilst this is one of few places where both White-bellied Go Away Birds and Bare-faced Go Away Birds are common. Red-bellied Parrot is common in the woodlands, whilst the riverine forest is home to smaller number of Meyer's Parrot. Sand rivers in the southern part of the park (follow roads south of Oliver's Camp, or past Kuru Ranger's post) are home to the spectacular Vulturine Guineafowl, whilst Helmeted Guineafowl are common throughout. The thicker bush of the southern parts of the park offer excellent birding opportunities, especially if you arrange a walk with a ranger from Oliver's Camp.
If you're staying at the Tarangire Safari Lodge, it's always woth checking the roof and trees around tent 29 for the local African Scops Owl.
Access and Facilities
There are two main access gates - the main gate near Kwa Kuchinja and Boundary Hill gate on the eastern side. A system of roads and tracks allows access to most places of interest, but walks (arranged with an armed guard at the main gate or in advance through Oliver's Camp) offer an excellent way to get close to birds and other wildlife. A number of lodges inside and outside the park cater to a range of budgets, campsites are also available both inside and outside the park (NB the public camp site inside the park is actually right on the boundary anyway, and not really worth the extra expense. Special campsites are a different matter...)
Contact Details
"to do"
External Links