Overview
Hervey Bay formally is a city and inlet on the mainland of Queensland, Australia where it abuts the Pacific Ocean. The population count, in 2006, put the area with just under 50,000 residents in an area approximately 55 X 40 miles/89 X 64 km in length and width. There are resorts in the area as well as sugarcane and pineapple plantations along with some oyster farming. [4]
A nice enough place with all this, but it's also a great place to commune with nature as evidenced by a large number of bird species present in the area along with the many islands, both large and small, with their varied and accessible habitat in the area. One of those is Fraser Island just across the bay. Add into that other Fraser Coast locations adjacent to, and near Hervey and you end up with an area of mixed habitat and a temperate, sub-tropical climate[5] that is attractive the year-round.
Birds
Notable Species
Birding potential in this area is plentiful. Habitat is varied and accessible, depending on your desire and motivation. There has been 369 different species reported as having been sighted here along with 8 globally threatened species.
Add into this over 80 species reported as endemic to the country, or region. Some of those are the Freckled Duck, Australian Brushturkey, Wonga Pigeon, Red-necked Avocet, Black-shouldered Kite, Laughing Kookaburra, and the Cockatiel to name a few.[1]
An aspiring birder would likely be limited only by their own needs, constraints, and considerations.
Rarities
Some of the species reported as rare, or accidental, for this area[1] include the Pectoral Sandpiper, Pacific Gull, Kelp Gull, and Black-throated Finch.
Check-list
Birds you can see here include:
Magpie Goose, Pacific Black Duck, Australian Brushturkey, Stubble Quail, Great Crested Grebe, Peaceful Dove, Australian Bustard, Black-eared Cuckoo, Tawny Frogmouth, Australian Owlet-nightjar, Uniform Swiftlet, Eurasian Coot, Brolga, Pied Stilt, Pacific Golden-Plover, Red-kneed Dotterel, Comb-crested Jacana, Sharp-tailed Sandpiper, Sharp-tailed Sandpiper, Common Greenshank, Painted Buttonquail, Australian Pratincole, Parasitic Jaeger, Sooty Tern, Lesser Crested Tern, Red-tailed Tropicbird, Black-browed Albatross, Wedge-tailed Shearwater, Lesser Frigatebird, Great Cormorant, Australian Pelican, Pied Heron, Royal Spoonbill, Osprey, Spotted Harrier, Australian Masked-Owl, Southern Boobook, Sacred Kingfisher, Australian Kestrel, Yellow-tailed Black-Cockatoo, Crimson Rosella, Noisy Pitta, Satin Bowerbird, Southern Emuwren, Red Wattlebird, Little Friarbird, Brown Thornbill, Mangrove Gerygone, White-winged Triller, Golden Whistler, White-browed Woodswallow, Rufous Fantail, Magpie-lark, Apostlebird, Red-capped Robin, Common Myna
Other Wildlife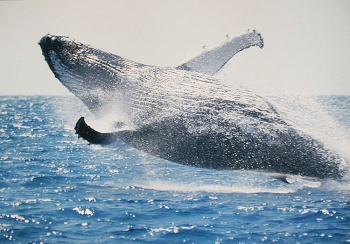 Among a mix of turtles and marine life, a visitor could find whales and koalas. [6]
Site Information
History and Use
Hervey Bay was named by British navigator Captain James Cook in 1770 and surveyed in 1804 b Matthew Flinders, another British navigator.[4]
Areas of Interest
Hervey Bay Botanic Gardens
A botanic garden on 6000-year-old dunes with plants of the Wide Bay and Great Sandy regions reflecting the natural ecology of the World Heritage Fraser Island. Open daily with free admission.[6]
Great Sandy Straits Botanic Garden
Another name for the Hervey Bay Botanic Garden.
The Bay at Hervey Bay
Offshore from the city of Hervey Bay where the whale activity takes place
Nearby Areas of Interest
Fraser Island
The largest sand island in the world in an area west across the bay from the city.
Access and Facilities
Hervey Bay Airport (HVB) in Hervey Bay offers some scheduled airline service.
Consult a trusted travel professional for additional, specific, and up-to-date information concerning travel to this area.
References
Recommended Citation
Maps

Content and images originally posted by cliffandrew
Reviews
John Archer's review This is a fantastic place for wildlife, my wife and I spent our holidays there. John From Melbourne Pros