This article is incomplete.
This article is missing one or more sections. You can help the BirdForum Opus by expanding it.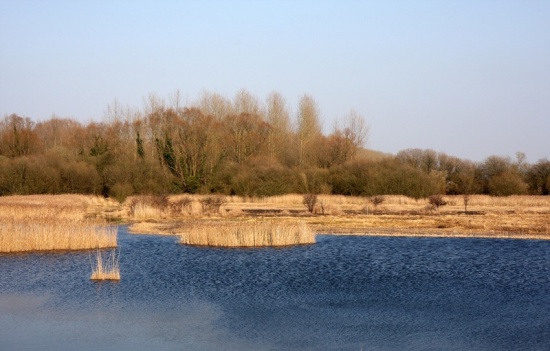 Overview
This small fen, once a large lake and now isolated in arable farmland, forms an important refuge for wetland species in an area where their habitat was once much more widespread.
Once used as cress-beds due to the upwelling of spring water, Fowlmere now contains reedswamp and patches of hawthorn scrub as well as willow and alder trees.
Birds
Notable Species
The reedbeds are home to abundant Sedge Warbler, Reed Warbler and Reed Bunting while the ditches and open water have Little Grebe, Water Rail, Moorhen and Mallard. Scrub areas have breeding Turtle Dove and Grasshopper Warbler and in winter attract feeding flocks of thrushes and finches. Corn Bunting and Pied Wagtail form winter roosts in the reedbeds and Hen Harrier frequently quarters the marshes. Great Grey Shrike and Great Bittern are rare but regular winter visitors.
Check-list
Birds you can see here include:
Little Grebe, Great Bittern, Grey Heron, Mallard, Tufted Duck, Western Marsh Harrier, Hen Harrier, Eurasian Sparrowhawk, Common Kestrel, Merlin, Northern Hobby, Water Rail, Common Moorhen, Common Snipe, Green Sandpiper, European Turtle Dove, Common Cuckoo, Common Kingfisher, Eurasian Skylark, Barn Swallow, Pied Wagtail, Common Wren, Dunnock, Eurasian Robin, Eurasian Blackbird, Fieldfare, Song Thrush, Redwing, Mistle Thrush, Common Grasshopper Warbler, Sedge Warbler, Eurasian Reed Warbler, Lesser Whitethroat, Common Whitethroat, Blackcap, Common Chiffchaff, Willow Warbler, Spotted Flycatcher, Long-tailed Tit, Willow Tit, Blue Tit, Great Tit, Great Grey Shrike, Common Magpie, Eurasian Jackdaw, Rook, Carrion Crow, Common Starling, Chaffinch, European Greenfinch, European Goldfinch, Eurasian Siskin, Lesser Redpoll, Reed Bunting, Corn Bunting
Other Wildlife
The chalk outcrops found on the reserve have a special flora of their own including Adder's-tongue Fern Ophioglossum vulgatum, Autumn Gentian Gentianella amarella, Bee Orchid Ophrys apifera and Cowslip Primula veris.
Mammals include Muntjac Deer, Water Shrew and Pygmy Shrew.
Common Frog Rana temporaria and Common Toad Bufo bufo are abundant in spring and early summer and Grass Snake Natrix natrix and Common Lizard Lacerta vivipara also occur in the reserve.
Site Information
History and Use
To do
Areas of Interest
To do
Access and Facilities
To reach the reserve turn off the A10 Cambridge-Royston road to the village of Fowlmere and the reserve lies to the south. There is a nature trail and picnic area and four hides, one of which is elevated.
Grid reference: TL406461
Contact Details
Tel: 01763 208978 (RSPB)
External Links

Content and images originally posted by Steve