This article is incomplete.
This article is missing one or more sections. You can help the BirdForum Opus by expanding it.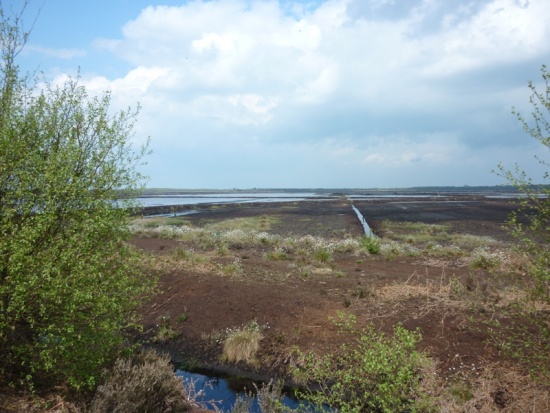 Overview
The moor is 1420Ha in area and comprises several freshwater lakes and ponds along with willow carr and birch woodland, however the major part of the moor is old peat workings. These areas of exposed peat are slowly regenerating into the wetlands that they were 4,000 years ago. There are several paths onto the moor that allow you to safely traverse the area but care should be taken if leaving the paths as it is very easy to lose your bearings.
Birds
Notable Species
The area is one of the better locations for woodlark in Yorkshire, and also holds breeding nightjars in most years.
Rarities
For the past 3 years (2009,10 &11) a Red-necked Grebe has taken up residence on Ten Acre Lake at the Northern Edge of the moor during the spring and summer months
Check-list
Birds you can see here include:
Black-necked Grebe, Little Grebe, Great Crested Grebe, Red-necked Grebe, Great Cormorant, Grey Heron, Mute Swan, Bewick's Swan, Whooper Swan, Pink-footed Goose, Common Shelduck, Greylag Goose, Eurasian Wigeon, Gadwall, Eurasian Teal, Mallard, Northern Shoveler, Common Pochard, Tufted Duck, Goldeneye, Marsh Harrier, Hen Harrier, Eurasian Sparrowhawk, Common Buzzard, Kestrel, Hobby, Peregrine Falcon, Merlin, Red-legged Partridge, Pheasant, Moorhen, Common Coot, Eurasian Oystercatcher, Little Ringed Plover, Ringed Plover, European Golden Plover, Northern Lapwing, Eurasian Woodcock, Eurasian Curlew, Common Redshank, Black-headed Gull, Common Gull, Herring Gull, Great Black-backed Gull, Common Tern, Stock Dove, Common Wood Pigeon, Eurasian Collared Dove, European Turtle Dove, Common Cuckoo, Little Owl, Tawny Owl, Long-eared Owl, Short-eared Owl, European Nightjar, Common Swift, Green Woodpecker, Great Spotted Woodpecker, Woodlark, Eurasian Skylark, Sand Martin, Barn Swallow, House Martin, Tree Pipit, Meadow Pipit, Yellow Wagtail, Pied Wagtail, Wren, Dunnock, European Robin, Eurasian Blackbird, Song Thrush, Mistle Thrush, Sedge Warbler, Eurasian Reed Warbler, Lesser Whitethroat, Common Whitethroat, Garden Warbler, Blackcap, Common Chiffchaff, Willow Warbler, Long-tailed Tit, Blue Tit, Great Tit, Coal Tit, European Jay, Eurasian Magpie, Western Jackdaw, Rook, Carrion Crow, Common Starling, Eurasian Tree Sparrow, Common Chaffinch, European Greenfinch, European Goldfinch, Common Linnet, Yellowhammer, Eurasian Bullfinch, Reed Bunting, Corn Bunting
Other Wildlife
Mammals that may be seen on the moor include Roe Deer, and Red Fox.
The moor is arguably one of the best places to see Adder in Yorkshire, whilst other reptiles are Grass Snake, and Common Lizard.
Butterflies recorded here include Brimstone, Small Copper, and Speckled Wood, whilst Odonata found on the moor include Broad-bodied Chaser, Four-spotted Chaser and Black Darter . Other notable invertebrates are the Mire Pill Beetle once thought extinct and the Giant Raft Spider.
Site Information
History and Use
Areas of Interest
Huggins Carr.
This is a body of water not far from the Boston Park car park but on the other side of the A614.
Park in the Boston Park car park and make your way back to the A614, just South of the car park entrance you will find a green lane on the opposite side of the road. Follow this past stables, a large set of metal gates and a farm house opposite a large concrete area with a green fuel tank. The green lane continues North and you will reach Huggins Carr after about 150 yards. The water body is to the West and can only be viewed from the lane.
It holds a good number of pre-breeding black-necked grebes, they seem to pair up here before heading off to new pastures to breed and hopefully rear young. Good numbers of corn buntings and yellowhammers can be found along the lane as well.
Access and Facilities
There are two parking areas for the moor.
The Northern car park is close to Ten Acre Lake and is reached from Remple Lane off the A614 in Hatfield Woodhouse. Look at the linked map to check out the route from the A614 as there are crossroads and forks in the road to negotiate.
The Southernmost car park is at Boston Park and again is reached from the A614, South of Hatfield Woodhouse, this time the car park is much closer to the main road. The main car park here is gated and locked overnight so if you are making an evening trip park just at the end of the approach road rather than in the main car park. There are no facilities at either car park.
Access to the moor by foot is possible from the village of Wroot, a finger post at the western end of the village indicates a bridleway which can be followed Northwards, crossing the River Torne and entering the moor via a grassy track and metal bridge on the reserve boundary
Contact Details
External Links
Hatfield Moor at Natural England