This article is incomplete.
This article is missing one or more sections. You can help the BirdForum Opus by expanding it.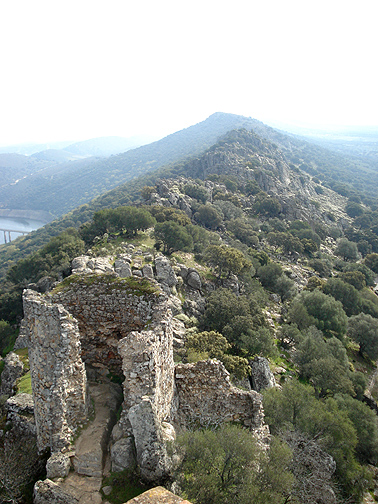 Overview
The best-known raptor site in Spain, Monfrague National Park, covers a stretch of the Tagus valley in the Extremadura region and has much more besides raptors making it an excellent area for a birding holiday.
The variety of habitats found here from open grassland, wooded valleys and scrub-covered hillsides to high rocky crags support a wide range of Iberian birds including some major rarities.
Part of the area has been planted with non-native pines and eucalyptus but much native Mediterranean-type woodland remains and the dehesa. This habitat, almost confined to Iberia is dry, open pasture with scattered patches of cork and holm oak and has a characteristic flora and fauna, providing breeding and feeding sites for many of the region's birds.
Birds
Notable Species
The raptors of Monfrague numbering about twenty breeding species, include three vultures and this is probably the world's best site for Eurasian Black Vulture. There are also three kites, two harriers and five eagles including the rare Spanish Imperial Eagle.
One of the best spots within the park is the great pinnacle of Penafalcon where Griffon Vulture and Egyptian Vulture breed alongside Peregrine Falcon and other raptors. White-rumped Swift is a recent colonist and there are also Alpine Swift, Red-billed Chough, Blue Rock Thrush, Eurasian Crag Martin and the other major birding attraction of the park, nesting Black Stork. Eurasian Black Vulture, Golden Eagle and Spanish Imperial Eagle are probably best seen along the ridge of the Sierra de las Corchuelas. Other birds of the rocky and more upland areas include Red-rumped Swallow and Black-eared Wheatear while Eurasian Eagle Owl can be seen along the Tietar.
In the wooded valleys of this river and the Tagus there are Eurasian Scops Owl, Great Spotted Cuckoo and Iberian Magpie, Iberian Grey Shrike and Woodchat Shrike, Golden Oriole, European Bee-eater and Hoopoe.
The rivers themselves have Grey Wagtail, Common Kingfisher and Little Ringed Plover and at the reservoirs, formed by dams, Little Egret and Cattle Egret and Grey Heron, Purple Heron and Black-crowned Night Heron can be seen and Great Crested Grebe, Great Cormorant, Eurasian Spoonbill and Greylag Goose occur in winter.
The dry plains of the park are home to Red-legged Partridge, Little Bustard and Stone-curlew, various larks and Corn Bunting.
Check-list
Birds you can see here include:
Great Crested Grebe, Great Cormorant, Black-crowned Night Heron, Cattle Egret, Little Egret, Grey Heron, Purple Heron, White Stork, Black Stork, Eurasian Spoonbill, Greylag Goose, European Honey Buzzard, Black-shouldered Kite, Black Kite, Red Kite, Egyptian Vulture, Griffon Vulture, Eurasian Black Vulture, Short-toed Eagle, Western Marsh Harrier, Hen Harrier, Montagu's Harrier, Northern Goshawk, Eurasian Sparrowhawk, Common Buzzard, Spanish Imperial Eagle, Golden Eagle, Booted Eagle, Bonelli's Eagle, Lesser Kestrel, Common Kestrel, Northern Hobby, Peregrine Falcon, Red-legged Partridge, Common Crane, Little Bustard, Stone-curlew, Little Ringed Plover, Rock Dove, Great Spotted Cuckoo, Common Cuckoo, Eurasian Scops Owl, Great Eagle Owl, Long-eared Owl, Red-necked Nightjar, Alpine Swift, White-rumped Swift, European Bee-eater, European Roller, Common Kingfisher, Eurasian Hoopoe, Great Spotted Woodpecker, Crested Lark, Thekla Lark, Wood Lark, Eurasian Crag Martin, Barn Swallow, Red-rumped Swallow, Northern House Martin, Tawny Pipit, Grey Wagtail, White Wagtail, Alpine Accentor, Rufous Bush Robin, Eurasian Robin, Common Nightingale, Black Redstart, European Stonechat, Black-eared Wheatear, Black Wheatear, Blue Rock Thrush, Eurasian Blackbird, Mistle Thrush, Cetti's Warbler, Dartford Warbler, Spectacled Warbler, Subalpine Warbler, Sardinian Warbler, Orphean Warbler, Western Bonelli's Warbler, Iberian Chiffchaff, Common Firecrest, Crested Tit, Blue Tit, Great Tit, Short-toed Treecreeper, Eurasian Golden Oriole, Iberian Grey Shrike, Woodchat Shrike, Common Jay, Iberian Magpie, Red-billed Chough, Northern Raven, Spotless Starling, House Sparrow, Spanish Sparrow, Rock Sparrow, European Serin, European Goldfinch, Eurasian Linnet, Hawfinch, Cirl Bunting, Rock Bunting, Corn Bunting
Other Wildlife
As well as supporting some of Spain's rarest birds, Monfrague is home to the rare Spanish Lynx and many other mammals. In addition to 15 species of bat there are Red Deer, Roe Deer and Fallow Deer, Wild Boar, Wildcat, Otter and Genet, Polecat and Beech Marten and more widespread species such as Red Fox and Badger. Mouflon and Egyptian Mongoose have been introduced.
Nineteen species of reptile occur, including nine snakes, and various amphibians including the localised Sharp-ribbed Newt.
Site Information
History and Use
Designated a Pargue Nacional in 2007 it now comes under Government jurisdiction, offering further protection for the animals, flora and birds.
There are over 140 sites of prehistoric interest within the park, including cave paintings dating from 4000BC, one of which can be viewed at 6pm after booking with the wardens at the visitor centre. The site availabe for public viewing is on the road to the Castillo de Monfrague, just after the sharp right hand bend, and is accessed through a locked gate and a steep metal ladder, not for those suffering from vertigo or claustrophobia.
The Puente del Cardenal was built as a crossing for the Rio Tajo for drovers moving their cattle and sheep to the higher ground for summer grazing, and also to open up a shorter route for travellers on the route from Trujillo to northern points in Extremadura and beyond. Built in 1450 it still stands today, though can only be seen in times of drought, when the low river levels expose the exquisite masonry.
The remoteness of the area made it a prime place for bandits, so in 1784, King Carlos III built the village of Villarreal de San Carlos as a deterrent to the roving bandits, offering sanctuary and protection for travellers.
Areas of Interest
The main viewing areas within the park, offering parking and shade, for comfortable views of birds are:-
Salto de Gitano, below the castle.
Fuente del Frances, just before the new bridge over the Tajo.
La Tejadilla, before the first new dam.
Portille del Tietar, the last view point to the north.
Access and Facilities
Most visitors travel to Monfrague from Trujillo via the C524 which leads to the villages of Castillo de Monfrague and Villareal de San Carlos. Alternatively there are trains to Caceres from Madrid and a bus can then be taken to Plascencia.
Accommodation is basic but can be found in Trujillo, Plascencia or a few km from the park at Torrejon de Rubio. Camping is only allowed at the Camping Monfrague official site, on the road to Malpartida de Plasencia. The park information centre is located in Villareal de San Carlos.
Contact Details
To do
External Links
Parque Nacional de Montfrague (in Spanish)
Content and images originally posted by Steve