This article is incomplete.
This article is missing one or more sections. You can help the BirdForum Opus by expanding it.
Overview
An awesome tropical paradise west of Key West, Florida.
Birds
Notable Species
Fort Jefferson takes up most of the main island, Bush Key is where you will see the big colonies of breeding Sooty Tern, boobies, Brown Noddy and Black Noddy.
On the pilons you will see the usual suspects, pelicans, cormorants, gulls.
Ruddy Turnstone rumage the small beaches.
Magnificent Frigatebird glide above you.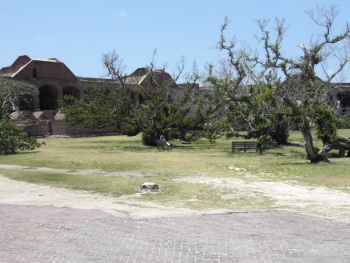 Check-list
Birds you can see here include:
Red-breasted Merganser, Audubon's Shearwater, White-tailed Tropicbird, Masked Booby, Brown Booby, Red-footed Booby, Northern Gannet, Brown Pelican, Double-crested Cormorant, Magnificent Frigatebird, Least Bittern, Great Blue Heron, Great Egret, Snowy Egret, Little Blue Heron, Tricolored Heron, Reddish Egret, Cattle Egret, Green Heron, Black-crowned Night Heron, Yellow-crowned Night Heron, White Ibis, Glossy Ibis, Wood Stork, Black Vulture, Turkey Vulture, Osprey, Northern Harrier, Sharp-shinned Hawk, Cooper's Hawk, Broad-winged Hawk, Red-tailed Hawk, American Kestrel, Merlin, Peregrine Falcon, Sora, Purple Gallinule, American Coot, Black-bellied Plover, American Golden Plover, Semipalmated Plover, Killdeer, American Oystercatcher, Black-necked Stilt, Spotted Sandpiper, Solitary Sandpiper, Greater Yellowlegs, Willet, Lesser Yellowlegs, Upland Sandpiper, Whimbrel, Ruddy Turnstone, Red Knot, Sanderling, Semipalmated Sandpiper, Western Sandpiper, Least Sandpiper, White-rumped Sandpiper, Pectoral Sandpiper, Short-billed Dowitcher, Laughing Gull, Ring-billed Gull, Herring Gull, Lesser Black-backed Gull, Great Black-backed Gull, Brown Noddy, Black Noddy, Sooty Tern, Bridled Tern, Least Tern, Gull-billed Tern, Caspian Tern, Black Tern, Roseate Tern, Common Tern, Royal Tern, Sandwich Tern, Black Skimmer, Pomarine Jaeger, Rock Pigeon, White-crowned Pigeon, Eurasian Collared Dove, White-winged Dove, Mourning Dove, Monk Parakeet, Yellow-billed Cuckoo, Black-billed Cuckoo, Barn Owl, Burrowing Owl, Short-eared Owl, Lesser Nighthawk, Common Nighthawk, Antillean Nighthawk, Chuck-will's-widow, Chimney Swift, Ruby-throated Hummingbird, Belted Kingfisher, Red-bellied Woodpecker, Yellow-bellied Sapsucker, Eastern Wood Pewee, Acadian Flycatcher, Least Flycatcher, Eastern Phoebe, Great Crested Flycatcher, Tropical Kingbird, Eastern Kingbird, Gray Kingbird, Scissor-tailed Flycatcher, White-eyed Vireo, Yellow-throated Vireo, Blue-headed Vireo, Philadelphia Vireo, Red-eyed Vireo, Black-whiskered Vireo, Purple Martin, Tree Swallow, Northern Rough-winged Swallow, Bank Swallow, Cliff Swallow, Cave Swallow, Barn Swallow, Blue-gray Gnatcatcher, Veery, Gray-cheeked Thrush, Swainson's Thrush, Wood Thrush, Gray Catbird, Northern Mockingbird, Brown Thrasher, European Starling, Cedar Waxwing, Blue-winged Warbler, Golden-winged Warbler, Tennessee Warbler, Orange-crowned Warbler, Northern Parula, Yellow Warbler, Chestnut-sided Warbler, Magnolia Warbler, Cape May Warbler, Black-throated Blue Warbler, Yellow-rumped Warbler, Black-throated Green Warbler, Blackburnian Warbler, Yellow-throated Warbler, Prairie Warbler, Palm Warbler, Bay-breasted Warbler, Blackpoll Warbler, Cerulean Warbler, Black-and-white Warbler, American Redstart, Prothonotary Warbler, Worm-eating Warbler, Swainson's Warbler, Ovenbird, Northern Waterthrush, Louisiana Waterthrush, Kentucky Warbler, Connecticut Warbler, Common Yellowthroat, Hooded Warbler, Wilson's Warbler, Yellow-breasted Chat, Summer Tanager, Scarlet Tanager, Chipping Sparrow, Clay-colored Sparrow, Lark Sparrow, Savannah Sparrow, Lincoln's Sparrow, White-crowned Sparrow, Northern Cardinal, Rose-breasted Grosbeak, Blue Grosbeak, Indigo Bunting, Painted Bunting, Dickcissel, Bobolink, Red-winged Blackbird, Common Grackle, Boat-tailed Grackle, Shiny Cowbird, Brown-headed Cowbird, Orchard Oriole, Baltimore Oriole, House Sparrow
Other Wildlife
To do
Site Information
History and Use
To do
Areas of Interest
To do
Access and Facilities
You can camp at the park, but bring your own EVERYTHING, there is no water in the park, no food either.
Getting there will cost you anywhere between $100 on a fastCat to 200 on a boat plain, unless you have your own boat.
Depart from Key West, FL.
Contact Details
To do
External Links
Content and images originally posted by ojmorales0002