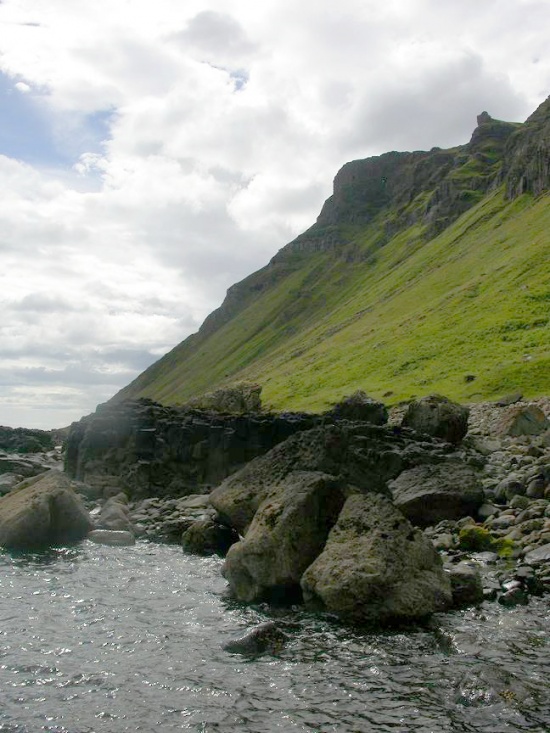 Overview
A large and irregularly shaped island off western Scotland, Mull has a range of habitats but this is generally upland country reaching more than 950m at the highest point, Ben More.
The island is almost cut in two by a sea-loch, Loch na Keal which indents the west coast, and further south there is another large sea-loch, Loch Scridain. In the south-west of the island is a long peninsula of low moorland with the small island of Iona off its tip.
The island of Ulva lies off the west coast as do the Treshnish Isles further offshore.
Birds
Notable Species
White-tailed Eagle, Golden Eagle, Corncrake, Hooded Crow
Rarities
Vagrants recorded on Mull have included Yellow-billed Diver, Pied-billed Grebe, King Eider and Surf Scoter, Pectoral Sandpiper and Grey Phalarope, Hoopoe, European Bee-eater and Wryneck, Rose-coloured Starling and Lesser Grey Shrike. In October 2002 a Crested Tit was present in Tobermory, the first record for this species.
Check-list
Birds you can see here include:
Red-throated Diver, Black-throated Diver, Great Northern Diver, Little Grebe, Slavonian Grebe, Northern Fulmar, Great Shearwater, Sooty Shearwater, Manx Shearwater, European Storm-petrel, Northern Gannet, Great Cormorant, European Shag, Grey Heron, Mute Swan, Whooper Swan, Pink-footed Goose, Greater White-fronted Goose, Greylag Goose, Barnacle Goose, Common Shelduck, Eurasian Wigeon, Common Teal, Mallard, Common Pochard, Tufted Duck, Greater Scaup, Common Eider, Common Scoter, Common Goldeneye, Red-breasted Merganser, Goosander, White-tailed Eagle, Hen Harrier, Eurasian Sparrowhawk, Common Buzzard, Golden Eagle, Common Kestrel, Merlin, Peregrine Falcon, Red Grouse, Rock Ptarmigan, Black Grouse, Common Pheasant, Corn Crake, Water Rail, Common Moorhen, Eurasian Oystercatcher, Ringed Plover, Eurasian Golden Plover, Grey Plover, Northern Lapwing, Red Knot, Sanderling, Purple Sandpiper, Dunlin, Common Snipe, Eurasian Woodcock, Black-tailed Godwit, Bar-tailed Godwit, Whimbrel, Eurasian Curlew, Common Redshank, Common Greenshank, (rare in W), Common Sandpiper, Ruddy Turnstone, Pomarine Skua, Arctic Skua, Great Skua, Black-headed Gull, Common Gull, Lesser Black-backed Gull, Herring Gull, Iceland Gull, Glaucous Gull, Great Black-backed Gull, Black-legged Kittiwake, Common Tern, Arctic Tern, Common Guillemot, Razorbill, Black Guillemot, Atlantic Puffin, Rock Dove, Common Woodpigeon, Eurasian Collared Dove, Common Cuckoo, Barn Owl, Tawny Owl, Long-eared Owl, Short-eared Owl, Great Spotted Woodpecker, Eurasian Skylark, Sand Martin, Barn Swallow, Northern House Martin, Tree Pipit, Meadow Pipit, Rock Pipit, Grey Wagtail, Pied Wagtail, Common Dipper, Common Wren, Dunnock, Eurasian Robin, Common Redstart, Whinchat, European Stonechat, Northern Wheatear, Ring Ouzel, Eurasian Blackbird, Fieldfare, Song Thrush, Redwing, Mistle Thrush, Common Grasshopper Warbler, Sedge Warbler, Common Whitethroat, Blackcap, Wood Warbler, Common Chiffchaff, Willow Warbler, Goldcrest, Spotted Flycatcher, Long-tailed Tit, Coal Tit, Blue Tit, Great Tit, Common Treecreeper, Eurasian Jackdaw, Rook, Hooded Crow, Northern Raven, Common Starling, House Sparrow, Chaffinch, European Greenfinch, European Goldfinch, Eurasian Siskin, Eurasian Linnet, Twite, Lesser Redpoll, Common Bullfinch, Common Crossbill, Snow Bunting, Yellowhammer, Reed Bunting
Other Wildlife
Site Information
Areas of Interest
Much of this rugged island is good birding country but there are some particularly good spots that visitors should ensure they check.
Glen More
Glen More is a long and steep-sided glen in the south of the island which is good for breeding passerines on the valley floor and raptors including Golden Eagle, Common Buzzard and Hen Harrier on the slopes. Take the A849 from Craignure towards Fionnphort which passes through the glen. Map
Loch Don
To the south of Craignure is the sea-loch of Lochdon, good for waders and waterfowl on passage and in winter. Red-breasted Merganser and Common Eider are present here all year and Hen Harrier and Common Buzzard hunt the surrounding moors and farmland. Map
Waders are best looked for an hour before or an hour after high tide and the inner loch can be viewed from the A849 which runs alongside the loch for part of its length. The outer loch can be viewed from the north at Gorten or from the south at Grass Point. Map
Fionphort
Fionnphort lies at the end of the long south-western peninsula and from here there are ferries to the island of Iona. This island of hay meadows and moorland has sea-cliffs with breeding Northern Fulmar, Shag and Kittiwake. Corn Crake is just possible in the meadows here but more regular are Twite, Linnet and Yellowhammer. Map
Loch Scridain
Loch Scridain on the island's west coast is home to three species of diver in winter as well as various seaduck and a similar range of birds occurs in Loch na Keal to the north. Here the wintering divers are joined by Common Scoter, Razorbill and Black Guillemot. Slavonian Grebe is frequently seen on passage and both these lochs often hold divers in summer. Loch na keal has fishing terns and Northern Gannet in summer as well as various waders. Map
Treshnish Isles
Offshore are the uninhabited Treshnish Isles with breeding Common Guillemot, Razorbill and Atlantic Puffin, Northern Fulmar, Shag and Kittiwake. The islands can be seen from boat-trips arranged at Ulva Ferry in Loch na Keal or Quinish to the north and these trips can produce skuas, shearwaters, European Storm-petrel and Northern Gannet during passage periods. Map
Mishnish Lochs
In the far north of the island close to the town of Tobermory are the Mishnish Lochs which have Red-throated Diver and Goosander in summer and sometimes Whooper Swan in winter. Golden Eagle, Common Buzzard and Hen Harrier are regular in this area. Map
Access and Facilities
There are regular car and passenger ferries to Craignure from Oban and to Fishnish from Lochaline. It may sometimes be possible to take the Coll and Tiree ferry and disembark at Tobermory in the north of Mull.
Accommodation is plentiful on Mull and cars, mopeds and cycles can be hired.
External Links
Walking Routes
Content and images originally posted by Steve
Reviews
Bob Pert's review
Guided visits to a hide with views to the nest area of a Sea Eagle are available year round. Bookings via the Tourist Office at Craignure on 01680 812556 - booking essential. Bookings are made on a first come first served basis for up to 20 people per session.
Trips run Monday to Friday at 10.00 and 13.00. Cost is £5.00 for adults and £2.0 for children / concessions. Income raised by the Sea Eagle trips goes towards the project and good causes on Mull and Iona.
Each trip lasts two hours .
border reiver's review
White Tailed and Golden Eagles are highlights. Lots of hooded crows. Well worth a visit. Pros
The most beutiful island on the west coast
Cons