Overview
The Algarve is the most popular tourist area in Portugal and attracts many thousands of visitors each year especially from Britain.
The most important birding site in the Algarve is the Ria Formosa on the coast adjacent to Faro, one of the most popular of the area's tourist destinations. Despite much loss of habitat to development, the Ria Formosa is an excellent birding location and much of the area is now a Natural Park. It covers 60km of coast from Manta Rota in the east to Ancão in the west and comprises large areas of dunes and lagoons, channels and islands, mudflats, saltpans, pools and rivermouths.
Birds
Notable Species
The Ria Formosa is of great importance for a wide range of breeding, passage and wintering birds and is Portugal's best site for Western Swamphen.
Little Bittern and Purple Heron both breed as well as egrets, White Stork and Stone-curlew. Collared Pratincole used to breed in the area but they have become much rarer in recent years. Little Tern breeds in important numbers on some of the islands and the Ludo Farm and Quinta do Lago in the west of the area have breeding Western Swamphen and Red-crested Pochard.
Golden Oriole, Dartford Warbler and Greater Short-toed Lark are also common breeders in the area and Iberian Magpie and Short-toed Treecreeper can be seen in Stone Pine woodlands. Common Waxbill is established in the area.
The greatest diversity of species occurs during passage periods with spring seeing the arrival of Great Spotted Cuckoo and passerines including Common Redstart, Whinchat, Western Black-eared Wheatear, and warblers such as Spectacled Warbler and Western Subalpine Warbler.
A wider range of passerine migrants occurs in autumn when Tawny Pipit, Bluethroat, Pied Flycatcher and various warblers. Little Stint, Curlew Sandpiper, Ruff and Spotted Redshank are among the many species of wader to be seen here in autumn, Black Tern is regular and raptors such as Red Kite, Short-toed Eagle and Booted Eagle pass through.
In winter Black-necked Grebe, Greater Flamingo, Glossy Ibis and Eurasian Spoonbill are regular as well as Caspian Tern and waders including Black-winged Stilt.
Large numbers of waterfowl winter here and in excess of 10,000 ducks can be seen including Eurasian Wigeon, Common Teal, Gadwall and Northern Pintail. Passerines in winter include Water Pipit, Bluethroat and Penduline Tit.
Rarities
Rarer species recorded in the Ria Formosa area include Bean Goose, Blue-winged Teal, Long-tailed Duck, White-headed Duck and Ruddy Duck, Marbled Duck and Crested Coot. A Wilson's Phalarope was present in September 2002.
Check-list
Birds you can see here include:
Little Grebe, Great Crested Grebe, Black-necked Grebe, Northern Gannet, Great Cormorant, Great Bittern, Little Bittern, Black-crowned Night Heron, Squacco Heron, Cattle Egret, Little Egret, Grey Heron, Purple Heron, White Stork, Glossy Ibis, Eurasian Spoonbill, Greater Flamingo, Eurasian Wigeon, Gadwall, Common Teal, Mallard, Northern Pintail, Garganey, Northern Shoveler, Marbled Duck, Red-crested Pochard, Common Pochard, Tufted Duck, European Honey Buzzard, Black-shouldered Kite, Black Kite, Red Kite, Griffon Vulture, Short-toed Eagle, Western Marsh Harrier, Hen Harrier, Montagu's Harrier, Common Buzzard, Booted Eagle, Osprey, Common Kestrel, Merlin, Peregrine Falcon, Water Rail, Little Crake, Common Moorhen, Western Swamphen, Eurasian Coot, Little Bustard, Eurasian Oystercatcher, Black-winged Stilt, (rare in W), Pied Avocet, Stone-curlew, Collared Pratincole, Northern Lapwing, Little Ringed Plover, Ringed Plover, Kentish Plover, Grey Plover, Red Knot, Sanderling, Little Stint, Temminck's Stint, Curlew Sandpiper, Dunlin, Ruff, Common Snipe, Black-tailed Godwit, Bar-tailed Godwit, Whimbrel, Eurasian Curlew, Spotted Redshank, Common Redshank, Common Greenshank, Green Sandpiper, Wood Sandpiper, Common Sandpiper, Ruddy Turnstone, Mediterranean Gull, Little Gull, Black-headed Gull, Lesser Black-backed Gull, Yellow-legged Gull, Caspian Tern, Gull-billed Tern, Sandwich Tern, Little Tern, Black Tern, White-winged Black Tern, Feral Pigeon, European Turtle Dove, Eurasian Collared Dove, Great Spotted Cuckoo, Common Cuckoo, Little Owl, Common Swift, Pallid Swift, Red-necked Nightjar, Common Kingfisher, European Bee-eater, Eurasian Hoopoe, Eurasian Wryneck, Great Spotted Woodpecker, Greater Short-toed Lark, Crested Lark, Wood Lark, Eurasian Skylark, Barn Swallow, Red-rumped Swallow, Northern House Martin, Tawny Pipit, Water Pipit, Meadow Pipit, Iberian Yellow Wagtail, White Wagtail, Rufous Scrub Robin, Bluethroat, Common Nightingale, Black Redstart, Common Redstart, Whinchat, European Stonechat, Northern Wheatear, Western Black-eared Wheatear, Eurasian Blackbird, Mistle Thrush, Cetti's Warbler, Zitting Cisticola, Common Grasshopper Warbler, Sedge Warbler, Common Reed Warbler, Great Reed Warbler, Melodious Warbler, Dartford Warbler, Spectacled Warbler, Western Subalpine Warbler, Sardinian Warbler, Common Whitethroat, Garden Warbler, Western Bonelli's Warbler, Iberian Chiffchaff, Willow Warbler, Goldcrest, Common Firecrest, Spotted Flycatcher, European Pied Flycatcher, Crested Tit, Great Tit, Penduline Tit, Short-toed Treecreeper, Eurasian Golden Oriole, Iberian Grey Shrike, Woodchat Shrike, Iberian Magpie, Spotless Starling, House Sparrow, Eurasian Tree Sparrow, Common Waxbill, European Serin, Brambling, European Greenfinch, European Goldfinch, Eurasian Siskin, Eurasian Linnet, Common Crossbill, Hawfinch, Reed Bunting
Other Wildlife
In addition to birds this area has herpetological interest as it is one of the best places in Europe to find Chameleon.
The lagoon has one of the highest densities of seahorses (2 species) in the World, but even with snorkeling gear they can be hard to find.
The drier parts also has large numbers of damsel- and dragonflies during some of the winter months.
Site Information
Areas of Interest
Montenegro
[Map2]
At the ETAR waterworks at Montenegro there is a large lake worth looking at, to reach it leave Faro west on the N125 veering left towards the airport after 3km and turning left 1km later following signs for Montenegro. Continue over the crossroads and head south, veering left then right and the lake can then be seen on the left. Further on are saltpans, saltmarsh and mudflats.
Ludo Farm
For Ludo Farm return to the N125 and continue westwards for a further 700m before turning right onto a rough track.
Along this track are pines and scrub, saltpans and pools and the entire area is excellent birding country.
Quinta do Lago
[Map3]
///haunted.workbench.mature
Further west still is Quinta do Lago, reached via Almansil, where there is a golf course and some good lagoons.
A nature trail here leads to a hide overlooking a lagoon where Western Swamphen is virtually guaranteed.
Dunas Douradas
[Map4]
Western Swamphens can also be seen at Dunas Douradas slightly further west.
Quinta do Marim
To the east of Faro is the park headquarters at Quinta do Marim, take the N125 east to Olhao and turn right just before petrol station on the other side of the town. Cross the railway line and a track to the left leads to the entrance where a small fee is payable.
There is a nature trail here, farmland and saltpans, as well as a tidal mill. The visitor centre is actually the least interesting part.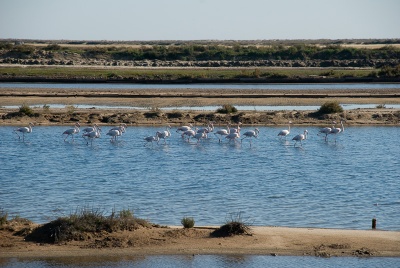 Ecovia Algarve
[Map5]
The Ecovia is a cycling route that goes more or less along the coast from Cape St. Vincent to Vila Real do Santo Antonio. West of Fuseta it goes though saltmarch and saltpans, and in winter/early spring there are good chances of seeing various waders, gulls as well as Greater Flamingo. At N125 between Olhao and Fuseta, turn south at the orange sign for F.C. Bias. After 300m turn right at the next F.C. Bias sign. Follow the road for about 1km, passing the football field and turning left at the T-junction. Park at the recycling containers and follow the dirt road under the railway. There is about 4km to Fuseta.
Access and Facilities
Faro forms the ideal base to explore the Ria Formosa and accommodation is easily found except perhaps in high season when booking may be necessary. There are also numerous package deals to this part of Portugal and this is a convenient and inexpensive way to see the birds of the area.
From the marina in Faro centre there are boat trips with focus on wildlife and nature.
In Fuseta there is also a guy who arranges birding and dolphin trips.
External Links
Ecovias Algarve (in Portuguese)
Maps
GSearch checked for 2020 platform.1


Content and images originally posted by Steve
For a free PDF guide to Birdwatching in the Algarve,go to: http://www.visitalgarve.pt/pressroom.file.php?fileID=123&file=guia_observacao_aves_baixa_resolucao_pt.pdf
Reviews
docherty's review (at Quinta do Lago)
It is a marvellous place to take the whole family even those not interested in birds. There is a wide safe and sandy beach on the other side of the reserve where the non birders can relax while you spend many pleasant hours spotting birds. To get to the reserve you have to drive through the numerous golf courses and the holiday villas of the rich and famous. It may be difficult for those without their own transport. There is also a restaurant smack in the middle of the reserve where you can get a nice cool beer or a full lunch. The restaurant is a little expensive and is almost entirely fish based but is extremely handy.
Pros
Easy access
parking good
excellent location. The birds on the golf course lake are approachable
easy to photograph and wonderfully colourful
particularly the Gallinules. There are countless waders to be seen together with ducks and gulls.
Cons
None so far as birding is concerned but you might want to consider insect/mosquito repellant. The restaurant is almost entirely fish
it's good but a little expensive.
stuffreviewer's review (Park centre at Olhao)
We were there in late March. Plenty of Storks, some Spoonbills, with Little Egrets and Grey Heron visible from the hide. The Purple Gallinule is fascinating, harvesting the reed roots and treading delicately through the mud. Hoopoes in the wooded areas if you look for them, very easy to spot when they're in flight. Also look at the tidal mill, which is very interesting. The visitor centre is a bit of an eyesore plonked in the middle of the reserve.
Pros
Cons
The run-down visitor centre